Flintshire family return pistol to Florence museum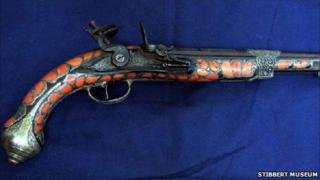 A 250 year old pistol, which was taken from an Italian museum during World War II and kept on a wall in Flintshire for more than 60 years, has been returned to Florence.
The family of Stanley Parry, from Holywell, said it was one of his dying wishes to have the gun sent back.
He was given the silver pistol by another soldier, who was about to throw it into the sea.
Stibbert Museum said it was a "fairy tale with a happy ending".
Mr Parry saw action in north Africa and Italy with the Eighth Army, and during his return to the UK across the Channel he noticed another soldier trying to throw an ornately-decorated pistol overboard.
He stopped him and kept it himself as a memento.
The 18th Century coral and silver gun had been taken from the Stibbert Musuem in Florence in 1944, when it was HQ to the British Army.
Mr Parry took it back to his home in Holywell in Flintshire and put it on display on his wall for 66 years.
'Happy ending'
His daughter June Cooke said he knew it should be returned and it became one of his dying wishes.
"The other soldier was going to throw the gun overboard, but Dad said it was too nice to do that and so he put it in his kit bag and brought it back," Mrs Cook told the BBC.
"He'd always intended it to go back to where it came from, when he retired, but unfortunately he passed away a couple of months after his 65th birthday and so never got round to it."
Mrs Cooke has now returned it to the museum.
Cristina Piacenti, the director of the museum, said she was delighted to accept the pistol back, after assistance by the British embassy.
"It's a fairy tale with a happy ending, it's a lovely story."
The museum have put the pistol back on display, with the story beside it.