Choir performs music inspired by Under Milk Wood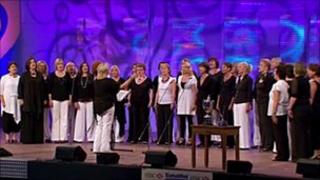 An original piece of music inspired by Dylan Thomas' play Under Milk Wood is to be performed for the first time.
Female choir Côr Merched Canna commissioned the work by composer Gareth Glyn with the help of a BBC scheme for choirs.
Canu'r Wenallt (Songs from Milk Wood) also features extracts from a Welsh language version of the play by T James Jones, the archdruid of Wales.
Côr Merched will sing it at Y Mochyn Du pub in Cardiff on Monday evening.
Delyth Medi Lloyd, the choir's musical director and conductor, said it was not always easy to find challenging pieces of music for female choirs.
"It's quite challenging for a ladies' choir because we wanted to stretch the choir," she said.
"You've got to really go out and look for stuff. There's fantastic stuff for mixed choirs, but nothing as exciting for ladies' choirs.
"We wanted to do something as regards ladies' choirs' repertoires as well."
Canu'r Wenallt was made possible by the BBC Performing Arts Fund's choral ambition scheme which helps choirs run development projects and commission new music.
Some 350 choirs applied and Côr Merched Canna was one of only 14 to get funding to commission new music.
The choir approached Welsh composer Mr Glyn to produce the music.
Ms Lloyd said using Under Milk Wood brought a number of advantages.
"We wanted to produce three or four different sections, so we thought of people and characters - where could we get different characters from?" she said.
"We could also sing it in English and there are certain sections that we could do unaccompanied or accompanied. It's quite versatile."
Canu'r Wenallt includes some of the best known characters from Under Milk Wood, such as Eli Jenkins.
The eight-minute work will feature extracts from Dan Y Wenallt, T James Jones' Welsh language version of the play.
He will attend the performance at Y Mochyn Du and also read some of his works. Mr Glyn will also be there.
Côr Merched Canna performed sections of Canu'r Wenallt at this year's National Eisteddfod, winning two major choir prizes.
The choir has around 60 members and rehearses weekly in Canton, Cardiff.
Proceeds from the performance will go towards Amser Justin Time, a charity set up to raise funds for pancreatic cancer after the death of TV director and musician Justin Smith.