Carmarthenshire cheesemaker wins supreme champion title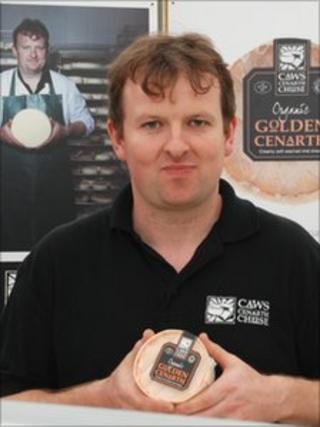 A small Carmarthenshire firm is celebrating after one of its cheeses was crowned British supreme champion.
Caws Cenarth beat more than 170 other cheesemakers to pick up the title at the National Museum Wales in Cardiff.
Golden Cenarth enjoyed a hat-trick of awards, also collecting Best Welsh and Best Semi-Soft Cheese.
Carwyn Adams of Caws Cenarth - which employs 10 people and has been in business for just over 20 years - hopes it will raise his company's profile.
Mr Adams said it now hoped to expand its customers among supermarkets and independent delicatessens, restaurants and hotels.
The company produces about 100 tonnes of the semi-soft washed rind cheese a year.
It has grown from strength to strength in the last five years in particular, Mr Adams said.
"I am obviously very pleased to win the supreme champion, " he said.
"We do export mainly to Holland and I am going to see if we can increase those exports."
The British Cheese Awards, which recognise the work of major and smaller producers alike, are in their 17th year.
Although the supreme champion hailed from Wales there was a wide geographical mix, with awards and medals also going to to Irish, English and Scottish cheesemakers.
Top of the cheddar makers was J A & E Montgomery of Somerset, whose traditionally-made extra mature cheddar won that category for the third time.
Two Hoots Cheese from Berkshire picked up Best Blue Cheese for its Loddon Blewe.