Cwmbran naturist club marks 30th birthday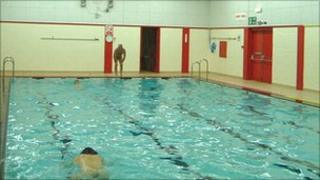 A naturist club which began with three families hiring out a swimming pool for their sole use for an hour is celebrating its 30th birthday this weekend.
Founder member and club chairman BRUCE HEYWOOD-BELL, 65, describes how Cwmbran Sun Group has changed over the years at Llantarnam Leisure Centre in Torfaen and looks forward.
"We started out with three families getting together for an hour every Saturday 30 years ago. They're all scattered about the country now and I guess we are down to about 100 members now.
We are one of the few naturist clubs in the country and we get people coming down from Birmingham and sometimes up from Bristol, even as far away as Llanelli and certainly from the valleys.
We meet once a week on a Saturday from six to nine to swim, play badminton, go in the sauna and just relax with no clothes on.
'Wonderful freedom'
For me nudity provides a wonderful freedom. Every time I miss my Saturday evening I feel totally deprived. It's a real de-stresser for me to float in the pool in the nude.
Down the years attitudes have changed because there seems to be a greater lack of interest in just taking your clothes off and relaxing.
Some people want to join us for other shenanigans and we are not interested in that.
We only accept families and couples, not singles. We're not interested in voyeurism here.
There's a British hang-up that physical contact has to be sexual, but for us that is not what it is about. We just want to relax in the nude.
We don't advertise ourselves in the true sense of the word but I regularly get people inquiring about the club.
Lots of our members are quite selfish about it. They are reluctant to share it, it's a tranquil evening.
When I asked people if they wanted a party to celebrate this birthday a lot of them were reluctant about that but we will have a Christmas-style party. We take our own food along and then we pool it and eat somebody else's.
I expect I'll take a couple of bottles of wine and have a glass to celebrate.
I suppose the club members have largely grown older with the club. We used to have a lot of children here, it used to be like Butlins in the pool, but it's not like that now.
We're getting older and the children have all grown up.
I suppose it's difficult to see how the club will continue into the future unless we get more people in their 20s and 30s involved."