Monmouthshire planners reject own council's HQ plan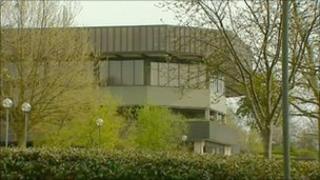 A county council's plans for a new head office have been turned down by its own planning committee.
Monmouthshire council wants to build a two-storey block on a site shared with Coleg Gwent, at Usk.
But a meeting heard the land is flood-prone and Environment Agency Wales said a planned bund or mound around the site raised flood risks for land upstream.
The council said discussions with the agency could allow an updated plan to be resubmitted next month.
The proposed two-storey civic centre would give Monmouthshire a county hall within its own border for the first time.
The county council currently shares its head office facilities with neighbouring Torfaen council, at Cwmbran, in Torfaen.
In 2003, both local authorities were advised to have new premises by March 2012 as the shared building, then only 25 years old, was suffering from concrete cancer and was beyond economical repair.
Built in 1969, the building was intended for 800 staff, but by 2007 there were 1,300 people working there.
The Monmouthshire planning meeting heard the county council's deal with Coleg Gwent would have seen all but two buildings demolished on the 3.5 hectare (8.7 acre) site.
The buildings to be demolished were to include a three-storey residential block to make way for the planned two-storey civic centre, housing around 200 'hot desking' employees.
Planning committee member David Dovey said: "For environment reasons there is no way we can pass this application.
"The documentation in front of us states that Usk is a low-lying area, prone to flooding. I will not put my name to something that might cause me problems in the future.
"It's in black and white and I for one cannot go with this application."
The planning meeting heard a bund would be constructed around the site but Environmental Agency Wales had said the flood prevention measure would increase the potential for the land upstream to flood, although this land was unpopulated.
In a statement to planners, the agency said: "We have failed to demonstrate that the risks and consequences of flooding can be acceptably managed in accordance with legislation, because of the increase in flooding elsewhere predicted as a result of flood mitigation proposals."
'Plonked'
Fellow committee member James Harris said: "This whole proposal is unacceptable. There are a whole raft of reasons why this development cannot go ahead. There is plenty of documentation on this matter in front of us."
Council chairman Peter Clark said: "So far, we the planning committee have not been involved with the planning consultation process and I don't want us to come under pressure at a later date to give approval for something we don't agree with."
Councillor Andrew Crump said: "I have a real difficulty with this application.
"I cannot accept that a modern building can be plonked into the middle of older-style buildings.
"It would be a cramped site and the proposal is nonsense. I think we should knock all the buildings down and start afresh."
'Positive'
The officers' recommendation was overturned by by seven votes to six, with the flooding issue cited as the main cause for concern.
George Ashworth, head of planning and regeneration, said: "Planning committee have resolved to refuse the council's headquarters application, and have requested that it be brought back to the October 5th meeting with a draft reason for refusal based on the environment agency's letter of objection.
"There will be updated information available at the meeting following discussions I am having with the environment agency, and committee will then be in a position to refuse the planning application, or to reconsider and decide to approve the scheme if the updated information is positive."