Autism research centre in Cardiff launches touch study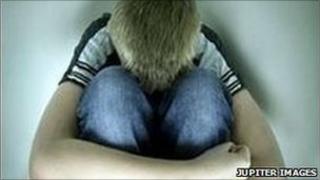 A scientific research centre dedicated to studying autism is looking for paticipants for a new study.
The Wales Autism Research Centre will be opened at Cardiff University later.
People with autism can be more sensitive to touch and the centre will research how they can adapt to different textures.
Professor Susan Leekam said the centre would "advance scientific research in Wales and internationally".
Autism affects up to one child in every 100 and those affected have difficulties in communicating, forming relationships and making sense of the world.
The three main symptoms that lead to a diagnosis of autism in children are social interaction, communication and repetitive patterns.
The centre is currently researching the responses of people with autism to vision, sound and touch to see whether these linked symptoms can help with diagnosis of the condition.
The centre's director, Professor Leekam, said: "These linked symptoms are very common in people diagnosed with autism.
"People with autism and medical professionals know about these linked symptoms but they need to be researched further in order to become better recognised.
"With vision for example we're looking at unusual responses to light and the fact that you often find people with autism will pick up objects and look at them from different angles.
"With sensitivity to sound, a siren blaring may seem much louder to someone with autism or they may be able to hear something that most people wouldn't such as a a sweet wrapper being opened some distance away."
The centre is currently looking for adults diagnosed with autism to take part in their research into touch.
If interested in the study you can email the centre on warc@cardiff.ac.uk.
Breaking down some of the myths
As well as research projects, the centre will also help frame policy.
The centre aims to raise public and professional and awareness of autism research, highlighting the importance of reliable, scientific evidence and breaking down some of the myths surrounding it.
Health Minister Edwina Hart is due to attend the launch of the centre, based at Cardiff University's school of psychology.
The centre has been established with support from autism charities and from the Welsh Assembly Government as part of its autistic spectrum disorder strategic action plan.
"The launch of the Wales Autism Research Centre marks the beginning of an exceptional opportunity to advance scientific research in Wales and internationally," Professor Leekam added.
"This mission is supported by partnerships between scientists, practitioners and government policy-makers, and makes the purpose of this research centre unique in the UK."