Doctors' body urges openness over critical NHS paper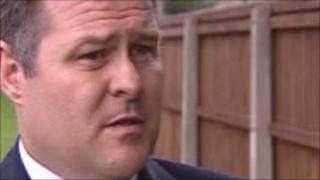 A doctors' body says it was not provided with a copy of a critical analysis of the NHS in Wales which has sparked a political row.
Opposition politicians have accused Health Minister Edwina Hart of deliberately suppressing the document from management consultants McKinsey.
Now the BMA in Wales, which says it contributed to the document, has called for more openness about its contents.
Mrs Hart said it was a "discussion document" rather than a report.
Andrew Dearden of BMA Wales said it was "unusual" it had not been given a copy despite contributing to the document.
He told BBC Radio Wales: "The people who are actually being asked to make the changes, to make the savings, haven't seen these things.
"When you ask someone to review something and then you ask them for their ideas, their thoughts, their suggestions, their recommendations, and they make some that are quite negative, you would probably want to make that public.
"In our view as the BMA Wales, we have asked for copies of the document, we have asked to review it because we were actually asked to give evidence, so if it was full of positive comments, I suspect it would have been made public.
"So for those of us who are working in the NHS it is important to know what outside people are saying."
Marcus Longley, director of the Welsh Institute for Health and Social Care at the University of Glamorgan, said the McKinsey document found that the Welsh NHS was not performing as well as comparable systems elsewhere.
He said: "They go to say that part of the problem is that Wales in a sense is very good at developing strategies but not at implementing them, so there are lots of strategies, lots of priorities, arguably too many, and when you give an organisation as complex as the health service too many priorities, it thrashes around."
He said the report recommended that there were no more than 25 priorities for the NHS in Wales.
"To some extent this is now a bit out of date, because these findings have been available for many months, and things have changed in the health service in the meantime," he said.
"I think this advice is not being taken very seriously so there is now a concerted effort to say 'we're going to do a small number of things well'."
Mrs Hart faced health questions in the assembly and said there were "loads and loads of discussion documents prepared all the time" by various officials.
"I don't accept the fact that there hasn't been clinical engagement, we have medical directors on board, we have everything in terms of the new structures, how people can engage," she said.
"To focus on some little discussion paper rather than the whole of the discussion that has taken place is amazing."