Ex-Welsh Guard Karl Bowen died in Iraq crash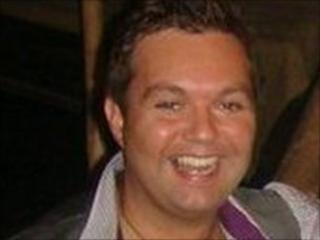 A former soldier living in the south Wales valleys has died in a road accident while working as a bodyguard in Iraq.
Ex-Welsh Guard Karl Bowen, 30, had moved to Abercwmboi in the Cynon Valley and was killed on 14 September.
He had been working in the Kirkuk region of the country providing close protection for a private security firm.
His mother Clare, who lives in Winchester, said her son "put his heart and soul" into everything he did.
"Anything he wanted to do - he went for - he out and grabbed it, it taught me a valuable lesson," she told BBC Wales.
"He was a wonderful kid."
She said her son had spent about nine years in the Welsh Guards, serving in Afghanistan, Iraq and Bosnia.
She said he returned to Iraq after a spell in civilian jobs, because he wanted to return to work with former army colleagues.
"I think he always wanted to get back to the boys - because the boys were his family," she said.
"He loved the boys he worked with - the camaraderie."
She said her son had talked about the risks involved in his work.
"But he wasn't afraid to die, he was brave," she added.
"He used to say to me 'Mum, you've got to go sometime and I'd rather go doing a job that I love' and working with people he loved - which basically is what he did."
Mr Bowen had two daughters but was separated from his former wife.
His mother said he had moved to Abercwmboi to be with his girlfriend.