Hart says critical NHS paper 'discussion not a report'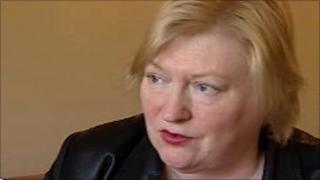 The health minister has denied claims she deliberately suppressed a critical analysis of the NHS in Wales.
Edwina Hart faced questions about the document by management consultants McKinsey, who predicted a financial black hole.
"There is no McKinsey report - this is a discussion document," said Mrs Hart, adding that "loads" were produced to start discussions.
The Liberal Democrats want a formal investigation of Mrs Hart's conduct.
Opposition AMs said the contents should have been made available to NHS staff.
Earlier, the BMA in Wales said it was "unusual" it had not been given a copy and called for more openness.
Mrs Hart, who faced health questions in the assembly, said: "There are loads and loads of discussion documents prepared all the time by my officials, by LHB officials, chairs, chief executives, just to generate, and start off a discussion.
"I don't accept the fact that there hasn't been clinical engagement, we have medical directors on board, we have everything in terms of the new structures, how people can engage.
"To focus on some little discussion paper rather than the whole of the discussion that has taken place is amazing.
"I appreciate that it is opportune, when you think that you have found something of significance, to bandy it around politically. But I'm not into that game."
Black hole
The document was obtained by the Liberal Democrats, and was brandished by party leader Kirsty Williams during First Minister's questions on Tuesday.
The analysis by consultants McKinsey shows a financial black hole for the NHS of hundreds of millions of pounds over coming years.
It also says that strategic objectives are too numerous, not prioritised, and politically nonviable, and that many initiatives are financially unaffordable.
First Minister Carwyn Jones had earlier mounted a strong defence of Ms Hart, saying her critics were wrong to suggest she misled the assembly.
He also said the document obtained by the Liberal Democrats was one of numerous inputs and analyses for a much wider five-year financial and strategic framework for the NHS in Wales.
Mrs Hart had previously said there was "no formal document for scrutiny".
Liberal Democrat AM Peter Black held up the McKinsey document in the chamber, saying, "Minister, it seems to be that this report is very much like the Cheshire Cat, it keeps disappearing, only to leave its smile behind, or in this case, its grimace."
Kirsty Williams has now written a letter to the First Minister demanding he formally investigate Mrs Hart's conduct.
She wrote: "Your health minister said that there is no McKinsey report but I have a copy. She said there is no formal document for scrutiny - but again, I have a copy.
"The suggestion by your official spokesperson that this is not a 'report' but a 'document' is at best a flimsy defence that will not fool the people of Wales.
"Call it what you will, it is now clear that your minister has suppressed a document of critical importance to the NHS in Wales in order to cover up the criticism of her own leadership of her department."
'Staggering absence of transparency'
In a later statement, a spokesman for the Welsh Assembly Government said: "The (health) minister has not misled anyone. There is no McKinsey report. "
The spokesman said the document produced by Ms Williams was "one such example" of "numerous inputs and analysis" which formed part of a five-year plan for the NHS.
He added: "The minister has been transparent throughout the whole process."
But Conservative health spokesman Andrew RT Davies AM said there was a "staggering absence of transparency" and that his own correspondence on the issue had not been answered.
"This culture of blatant mismanagement and secrecy must come to an end immediately," he said.
"How can we allow a health minister to tell AMs a critical report does not exist, when it so obviously does?
"Our health service is currently going through a period of excessive cuts and reorganisation. Its staff need a health department they can trust. This is not it."