Health Minister Edwina Hart 'withheld NHS report'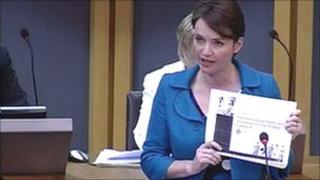 Health Minister Edwina Hart has been accused of withholding a management consultants' report which criticises the leadership of the NHS.
Welsh Liberal Democrats made the accusation in the Senedd, producing a document by consultants McKinsey.
Mrs Hart had previously said there was "no formal document for scrutiny".
The assembly government said Mrs Hart misled no-one, there was no McKinsey report, and the document was an example of "numerous inputs and analysis".
The consultants' conclusions were made public by Welsh Liberal Democrat leader Kirsty Williams during First Minister's Questions.
She asked First Minister Carwyn Jones how he explained "the existence of this report, which I have here, commissioned by his health minister, written by McKinsey and company".
She said the report described the assembly government's strategic objectives as 'too numerous and are not prioritised so that none or the wrong objectives are implemented'."
Ms Williams said the health minister had previously stated there was no McKinsey report and accused her of having "misled" AMs and the people of Wales by not publishing the "damning" report.
Mr Jones asked Ms Williams to write to him if she had any complaint about earlier statements given by the health minister.
'Five-year plan'
In a later statement, a spokesman for the Welsh Assembly Government said: "The (health) minister has not misled anyone. There is no McKinsey report. "
The spokesman said the document produced by Ms Williams was "one such example" of "numerous inputs and analysis" which formed part of a five-year plan for the NHS.
He added: "The minister has been transparent throughout the whole process."
The McKinsey document made public by the Welsh Liberal Democrats identified criticisms of the way strategies have been implemented in the Welsh health service.
It said: "Our discussions have highlighted several reasons why strategy implementations have fallen short in Wales."
It noted:
strategic objectives are too numerous and not prioritised, so none or the wrong ones are implemented
a gap between policy leads and operational delivery
strategic objectives are politically unviable
implementation lacks accountability
initiatives are financially unaffordable
lack of capability to deliver
The document also made a number of recommendations to make savings. These included:
prevent interventions of limited clinical value
transfer cost of non-essential items items to patients (e.g nicotine patches)
shut elective care over Christmas period
require non-clinical nursing staff to cover shifts
reduce staffing levels e.g overtime
freeze pay spend (in certain areas).