March commemorates centenary of Tonypandy riots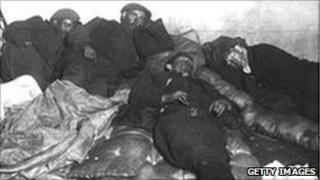 More than 400 Rhondda schoolchildren are to fall silent to commemorate the centenary of one of Wales' most significant industrial disputes.
The Tonypandy Riots of 1910 involved striking miners, who were fighting for a living wage.
Pupils from the area will march down Dunraven Street, which was the focus of the riots 100 years ago.
Hundreds were injured and one miner was killed, after troops were sent in by then home secretary Winston Churchill.
The march will be filmed for a BBC One Wales documentary to be shown in November.
Film-maker John Geraint, from Rhondda, is making an hour-long documentary about the riots.
The documentary examines the role of Winston Churchill, then Home Secretary, in the dispute and looks at the impact of the riots on relations between police, state and workers since.
Mr Geraint said events such as this were important for local history.
"My grandfather would have been involved in the Tonypandy Riots. The present generation don't have any direct experience of mining, not even from their parents' generation.
"I think it is important that people in the area are aware of their history.
"If we don't understand our history we cannot understand who we are and where we come from."
The children taking part in the march come from Tonypandy Community College and have worked on a year-long series of events to mark a hundred years since the Cambrian Colliery Combine strike.
Miners dispute
On 1 August, 1910, 800 miners were locked out of their pit following a wage dispute.
Managers at the pit protected the colliery and powerhouse with around 100 policemen as power was maintained by 60 strike-breaking "blackleg" stokers and colliery officials.
The lockout prompted miners at other Cambrian collieries to strike in sympathy with their colleagues.
Within the month a total of 12,000 miners went on strike. Violence broke out and led to riots in Tonypandy.
Home Secretary Winston Churchill sent in troops to support the police in their attempts to restore order.
More than 500 people and 80 policemen were injured during the disturbances: one miner died of head injuries reportedly received from a policeman's baton.
The strike eventually ended a year after it began when miners returned to work after accepting a small pay increase.