National Trust warns young may lose in heritage cuts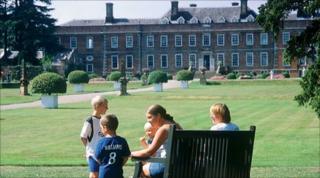 Young people in Wales face losing out on educational trips to historic sites if the heritage sector is hit by cuts, warns a senior National Trust official.
A report by the trust and other bodies says Wales' "historic environment" supports 30,000 jobs.
Heritage sites are worth £1.8bn a year to the economy.
Report steering group chair Ruth Williams said: "What a shame it would be if the next generation was not able to experience these places first hand."
Dr Williams chaired the steering group for a study aiming to evaluate the economic and social significance of the Welsh historic environment.
A total of 24 public, private and charity sector and 38 individuals were consulted for the research.
The heritage sector in Wales includes nearly 30,000 listed buildings, more than 4,100 scheduled ancient monuments, 428 registered landscaped, parks and gardens and three world heritage sites.
The places studied included Blaenavon, Caernarfon Castle, Castell Henllys Iron Age Fort, Pembrokeshire, Erddig Country House and Gardens, Wrexham, and the Monmouthshire and Brecon Canal.
'Highly significant contributor'
The research found the heritage sector was "highly significant contributor" to the Welsh economy, worth around £1.8bn a year.
It found at least a fifth of visitor spend in Wales was attributable to the historic environment.
The sector directly supports more than 19,000 full-time equivalent jobs while the indirect effects of its presence supported more than 30,000 full-time equivalent jobs.
The study found well-maintained sites can contribute to an area's civic pride, bringing social as well as economic benefits.
But the report, Valuing the Welsh Historic Environment, says the sector must be "actively cared for and promoted".
It warns: "Once elements have been lost or forgotten they can rarely be recovered."
Dr Williams said: "As we know from every news bulletin, there are cuts looming for all sectors.
"We just want to make sure that those decisions will be taken in the full knowledge of the impact of what the public benefits [of the heritage sector] are.
"We realise that local government has to do its statutory duty and that it's the non-statutory areas that will have to be looked at to be cut, so may be heritage, leisure and culture fall into the category.
"We just wanted to flag up to the wider public what we would be losing if the heritage sector is not looked after."
She said the "outer classroom learning" youngsters had at places like Erddig Country House and Gardens, Wrexham, and Tywi Afon yr Oesoedd / Tywi - a River Through Time, Carmarthenshire, had proved particularly valuable.
She said: "The cost of children and young people going to actually experience getting out of the classroom, is an area that schools o do find hard to fund, to pay for transport and insurance, etc.
"Heritage as an educational resource could be at risk. We want the coming generation to have the same opportunity to experiences these wonderful places."
Heritage Minister Alun Ffred Jones, who is launching the report, said: "Sometimes what is not recognised and what this report shows is that our heritage also has an important economic impact, both through the benefits it can bring to local people and the income generated through visitors."