Cyclist's world trip buying parts for 'dream' bike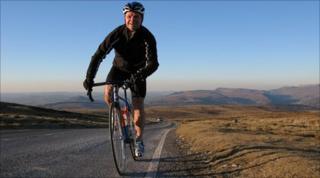 A bicycle which has been built with parts sourced from around the world is being put through its paces in Wales' Black Mountains.
Cyclist and writer Robert Penn spent a year travelling 11,000 miles (17,700km) creating his hand-built dream bike.
He bought from giant corporations and one-man firms across Britain, the rest of Europe and west coast America.
He uses the bike around his home near Abergavenny, Monmouthshire, and made a BBC documentary charting his travels.
A typical trip out for the 43-year-old former solicitor-turned-author involves a 45-mile, three-hour ride taking in the views around the Brecon Beacons.
He said: "The beauty of Wales is that is has fantastic road cycling and great mountain biking. You don't often get the two together.
"If you ride a bike a lot, you are always thinking about what the next bike might be and what the performance of the bike might be.
"I rode around the world in my late 20s. The bike I had for that was my favourite bike. Then a couple of years ago I noticed that all the bike in my shed were very utilitarian. They were really very 'functional.
"I wanted a bike which somehow reflected my interest in the machine and how I use it and why I use it and showed I know about the history of the machine."
The result was a book It's All About the Bike: The Pursuit of Happiness on Two Wheels, and a BBC documentary, Ride of My Life: The Story of the Bicycle, screened in July that charted his journey as he visited small and large specialist engineering firms in Britain, Italy and America to buy the parts he needed.
His frame was hand built by a family firm in Stoke on Trent and he watched the saddle being made in Birmingham.
The handlebars came from Italy, as did the the gears, brakes, cranks and socket, collectively known as the group set, while the tyres came from Germany.
The wheel spokes were from Belgium, the rims from Switzerland while the wheels were assembled by a man in San Francisco.
Mr Penn said: "There's nowhere I didn't go looking for a part."
He estimates the parts cost him about £3,500.