British girl causes stir after US beauty pageant win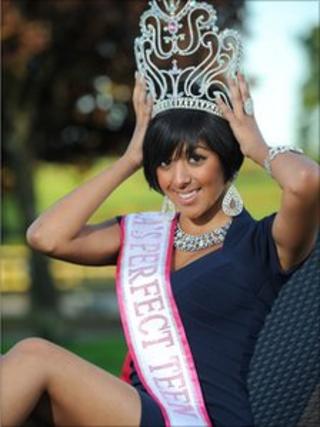 A British schoolgirl has caused a stir after scooping top prize in an American beauty contest.
Anysha Panesar, 16, beat teenagers from all over the US to be crowned America's Perfect Teen at a pageant in Florida, where she was on holiday with her family.
But her win caused fury among homegrown contestants.
The pageant's founder Michael Galanes said: "Her win caused a bit of a stir because she is British."
Anysha beat 80 rival contestants to scoop the top prize including a 2,000 dollar cash prize and a 20,000 dollar scholarship to study broadcasting in the US.
Anysha was on a family holiday in Kissimmee, Florida, when she found out about the American Perfect Teen contest and was told she could take part as an international contestant.
The A-level student hired a pageant coach to teach her all the right moves for the competition and was cheered on by her mother, Caroline, 41, her father Harby, 43, and her brother Toby, 13.
"Stunned"
The teenager, from Llangan, Vale of Glamorgan, attends Howells School in Cardiff - whose alumni includes singer Charlotte Church. She said she was "stunned" at her win.
"I didn't think I would actually win because I'm British, so I thought there was no chance I was going to win an American pageant.
"So when it got to me and one other person I thought I was going to come second.
"Then they announced the first runner up and I began walking forward before I realised it wasn't my name.
"My mum was sitting there crying her eyes out and my dad didn't know what to do with himself. My grandparents were on the phone - they were all so proud."
It's not the first time the teenager has sought the limelight. A former Miss Teen Wales, she has also appeared in the UK version of MTV's My Super Sweet 16 where she had a Moulin Rouge themed birthday party.
The pageant's founder Michael Galanes admitted Anysha's win caused a stir.
He said: "Yes, her win caused a bit of a stir because she is, of course, British.
"But that is perfectly within the rules of the competition and those people are just naysayers."
"Sour Grapes"
Anysha's mother Caroline accused fellow contestants of sour grapes.
"I did not hear anyone say anything nasty about her being British when we were there but I have heard it since and it is sour grapes.
"You are always going to get that, it is the nature of competition.
"For every person who says 'well done' there will be someone who complains behind her back."
The teenager currently has her heads in the books studying for A-levels in English, French, drama and history but will return to the states next year to crown her successor.