Kirsty Williams' call to 'transform' Wales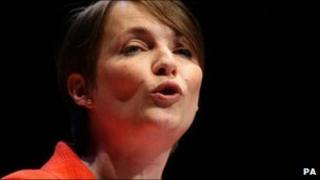 The leader of the Liberal Democrats in Wales says she would be willing to work with other parties to "transform" the country.
Kirsty Williams told BBC Wales she would be "fighting on all fronts" at the 2011 assembly election.
But would not rule anything in, or out, in dealing with other parties.
Ms Williams told the party's conference in Liverpool she was "proud" Lib Dem policies in Westminster were having an impact on people in Wales
She defended her party's role in the UK coalition government with the Conservatives and said Liberal Democrat policies having a postive impact on thousands of people in Wales.
"Whilst the Conservatives broke the pensions link with earnings and Labour failed to restore it, the Liberal Democrats, in Government, have now restored the pensions links with earnings," she said.
Talking about the assembly elections in 2011, Ms Williams said that they were "determined to win more votes, more seats and more influence for the Welsh Liberal Democrats."
However she also stressed that: "We know that, rightly or wrongly, some will see the results as a verdict on our decision to provide stability for the UK by entering a partnership government. And I know the Welsh Liberal Democrats will not let this party down.
She also used the speech to attack the Labour-Plaid government in Cardiff and said that they had failed.
"The record of the Labour-Plaid administration is one of waste and incompetence at a time when people need a government of thrift and responsibility."
She said promises on the Welsh language had been "forgotten" or "abandoned", while the administration had failed on targets on social housing and child poverty.
"Labour and Plaid Cymru, with a record like that, don't you dare presume to tell me what it means to be a progressive politician," said Ms Williams.
"With a record like that, Wales needs a strong and independent voice that it can trust. That is the task that falls to the Welsh Liberal Democrats."
And although in Westminster government with the Conservatives, Ms Williams also attacked their past record.
"We in Wales will never forget the Thatcher years. When unbridled market forces were unleashed upon the most vulnerable in society and the gap between rich and poor grew."
Earlier, when asked by BBC Wales about an electoral pact with the Tories after next May's assembly election, she said: "I'm not ruling anything in, I'm not ruling anything out.
"I'm willing to work with people who want the best for Wales and will subscribe to working together with the Liberal Democrats to transform Wales and to really take us forward in a way that the last four years of the Labour-Plaid coalition hasn't."
She made it clear, however, her party would be strongly contesting seats against all the other parties in Wales at the assembly election next year.
"We will be fighting this election next year in Wales on all fronts, taking on Plaid Cymru in places like Ceredigion, taking on the Labour Party in places like Swansea and Newport, and taking on the Tories in places like Brecon and Radnorshire and, more importantly, in Montgomeryshire and bringing that seat back to the fold."
She added: "I want to be in a position just like my colleague Nick Clegg, being at the heart of government and implementing Liberal Democrat policies rather than talking about them, and I think that's the ambition of everybody at this conference."