Connie Fisher reveals marriage's 'importance'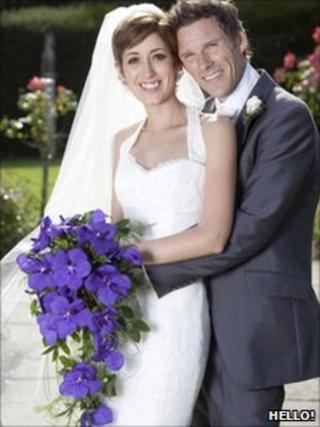 Sound of Music star Connie Fisher has said she did not think marriage was important until she was proposed to.
Fisher, 27, married banker Jeremy Reed on 11 September at St Donat's Church near their home in the Vale of Glamorgan.
The pair initially met on a Cardiff train station platform but parted without swapping numbers.
Divorcee Reed, who had not realised who she was at the time, went on to trace her through a mutual friend.
The mother gave her away, while her father read from Winnie The Pooh.
Speaking to Hello! magaine, Fisher said: "Before Jeremy proposed, I didn't think that getting married was that important to me.
"But to make that public declaration of our love in front of our families and friends, and to feel their love and support for us, was so special and so personal."
Fisher, who grew up in a village near Haverfordwest in Pembrokeshire, landed the West End role of Maria in The Sound of Music through taking part in the BBC's How Do You Solve a Problem like Maria? four years ago.
She has already revealed how she met divorcee Reed two years ago on platform 1 of Cardiff station when they were both travelling to London for work.
They began talking but then had to get separate trains and had no way of contacting one another.
In a break from tradition, Connie's mother Jan walked her down the aisle, while her father Michael, read from AA Milne's Winnie The Pooh.
The singer said: "Winnie the Pooh was my favourite childhood character and Dad would read stories to me every night.
"So it meant a lot to me to have him read that poem at my wedding."
She told Hello! how she lost two stone through healthy eating and running before the wedding and that meant she had to have her engagement ring resized.
"With the running, I was like Forrest Gump - once I started, I didn't want to stop.
"But then it got to a point with the dress fittings when I was told 'You musn't lose any more'," said Fisher, who is currently on a break from touring with The Sound of Music.