Ryder Cup 'infrastructure legacy'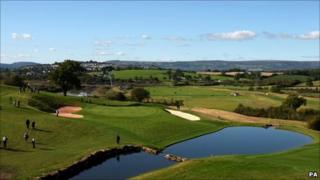 More than £27m has been spent on the "lasting infrastucture legacy" of golf's Ryder Cup at the Celtic Manor in Newport, say ministers.
The assembly govenment said £19.2m has been spent on road improvements and £8.5m on Newport rail station.
Overnight M4 closures and lane restrictions in the area will be suspended during competition week.
Deputy First Minister Ieuan Wyn Jones called it a "once in a lifetime opportunity" to showcase Wales.
The biennial golf competition takes place at Celtic Manor from 1 to 3 October.
Mr Jones said with a potential global TV audience of nearly two billion expected to watch the golf, they wanted to ensure Wales is remembered for all the right reasons.
He added: "The arrival of The 2010 Ryder Cup represents a once in a lifetime opportunity to put Wales firmly on the map and will be a fantastic opportunity the country will have to showcase itself on the world stage."
The assembly government has invested over £9.5m on improving the road infrastructure around Newport, and access to the event.
Another £3m has gone on bringing forward local road maintenance projects in time for the competition, £3.5m for a new access road from the A449, and a further £3.2m for three park and ride facilities serving the event.
A regeneration investment in the Newport rail station redevelopment and a bus service taking train passengers to the Celtic Manor Resort have also been made "to ensure Wales offers the best possible infrastructure".
Mr Jones said: "These commtments are part of our long-term vision to create a lasting legacy beyond 2010, long after the last ball is struck.
"This fits into our new approach to economic development and focuses on creating a high-quality infrastructure so that businesses, large and small, are well connected within and beyond Wales."
Works to install the variable speed system on the M4 has been completed.
The assembly government said it will be suspending all lane restrictions and overnight closures associated with the concrete barrier replacement scheme and other works on the motorway and other routes during the week of the Ryder Cup.
However, a 50mph speed restriction in the area will remain in force until later in the year when all the safety work is completed.
The Highways Agency has warned that major routes like the M5 southbound and M4 westbound into Wales will see "significant" increases in traffic for the event.
While a temporary chip-and-pin card payment scheme for the Severn Crossing tolls will be in place, visitors driving into Wales have been advised that it will still be quicker to pay by cash.