Trail to remember cartoonist Gren in Rhymney valley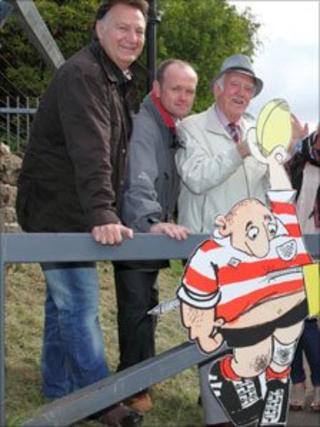 A trail to celebrate the life of popular cartoonist Grenfell Jones - or Gren - has been launched near his home village in the south Wales valleys.
Gren drew daily cartoons for the South Wales Echo for 35 years until his death in 2007, at the age of 72.
Caerphilly Council has created a walking route around Hengoed, including across the landmark viaduct.
Gren Way is to include artworks showing popular Gren characters.
For the launch, mock-ups of the characters were set up along the trail to show how the final artworks could eventually look.
Gren created a fictional valleys village, Aberflyarff, home of Ponty and Pop, whose lives centred around the rugby club and the local pub, the Golden Dap.
The characters appeared weekly in the Echo and in books.
Council leader Lindsay Whittle said: "Gren's popular characters hold a special place in the nation's heart - especially in the traditional valleys communities that are reflected in so many of his cartoon strips."
A green plaque is to mark Gren's Hengod birthplace at his former home at nearby Brynavon Terrace, while a sponsorship scheme for the artworks for fans of Gren and businesses is to be set up.
Mr Whittle added: "We thought it would be a fitting tribute to develop this walk through the landscape that inspired some of his most famous creations."