Legionnaires' cases rise to 21 in south Wales valleys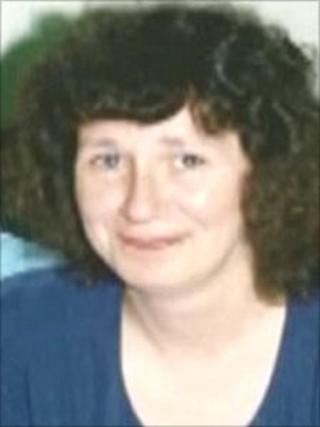 The number of cases in the Legionnaires' outbreak has risen to 21, health officials have confirmed
Bev Morgan, 49, from Rhymney, Caerphilly died last weekend and all 21 people have needed hospital treatment.
One further possible case in the outbreak along the Heads of the Valleys corridor is still under investigation.
Four industrial sites in Merthyr Tydfil, the Rhymney and Cynon Valleys have been closed but none have been confirmed as the source.
The outbreak area is the corridor 12km (7.5 miles) either side of the Heads of the Valleys road between Abergavenny in Monmouthshire and Llandarcy in Neath Port Talbot.
Dr Brendan Mason, consultant epidemiologist for Public Health Wales said 100 people from 10 agencies are working to find the source.
He said: "This is a very complex outbreak.
"Our investigations show that there is no single building visited by all the people linked to the outbreak.
"The sources, or source, are therefore likely to be industrial processes such as cooling towers.
So far 28 registered premises have been visited by officers.
A site at Dowlais in Merthyr Tydfil had a prohibition notice served by the HSE and has been cleaned and disinfected and is able to restart.
Two premises in the Rhymney Valley have voluntarily closed down parts of their operations while officers investigate.
One of these voluntarily closed its cooling tower for it to be disinfected as a precaution after microbiological results identified it was possible legionella bacteria was present.
A second company in the Rhymney Valley shut down a wet scrubber as a precaution on 11 September and is seeking expert guidance on cleaning and disinfecting before restarting.
A company in the Cynon Valley has also closed its cooling tower voluntarily in order for it to be disinfected.
Other premises have been investigated by the outbreak control team and samples have been taken from a number of the sites to try and identify whether the legionella bacterium is present.
Results are not yet available from many of these sites.
Dr Mason added: "Environmental health officers and Health and Safety Executive officials have visited and checked all the registered cooling towers in the area under investigation. They have also visited unregistered cooling towers. These investigations continue.
"We cannot confirm that any of the four premises which have closed are the source of infection.
"A team of more than 100 staff from 10 agencies are working to find the source of the outbreak. If we find it, we can remove it.
In all, three people have died from Legionnaires in the area but two deaths - of a 70 year old man and woman of 64 - have been excluded from this outbreak.
Public Health Wales said their investigations are focussing on a cluster of seven people linked to Rhymney and a further potential cluster in the Cynon Valley is also being investigated.
The other people have various links and connections across the outbreak area.
Public Health Wales says it is likely more cases of Legionnaires' will emerge before the source is found.
Anyone who is worried is advised to contact their GP.
In 2009, there were 24 confirmed cases of Legionnaires' disease in Wales, the majority of which were sporadic. Wales records on average 13 cases per year.