Replica of Welsh Catholic book presented to Pope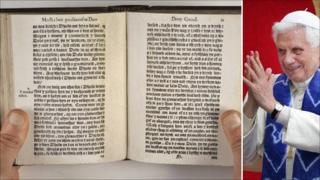 A replica copy of a historic Catholic book secretly produced in a cave in north Wales in 1586 has been presented to the Pope.
The National Museum of Wales says Y Drych Cristianogawl (The Christian Mirror) was the first book ever to be printed on Welsh soil.
It has produced a facsimile copy to be handed to Pope Benedict XVI.
It was originally printed in a cave on the Little Orme in Llandudno to avoid detection by Protestant Crown forces.
The book is described as a short essay on the love for God from a Catholic perspective with the hand-written pages of the book sent from Italy to Wales.
To avoid detection, the Catholics published that the book had been printed in Rouen in France.
It was presented to the pope during a mass at Westminster Cathedral on Saturday by Bishop Edwin Regan of Wrexham.
The facsimile copy was made by Julian Thomas of the National Library of Wales at the request of Joseph Kelly, the managing director of the Universe Catholic Weekly.
Mr Kelly said: "I've had a long-standing interest in Fr William Davies as he was the first Catholic publisher in Wales.
"I'd always hoped that I could one day make his book better known and I'm very pleased and honoured that a facsimile copy of his book will presented to the pope."
Contemporary sources indicate that the printing took place in late 1586 and early 1587.
The activity in the cave ceased and the participants fled when news reached the authorities of what had been going on.
Measuring just five and a half by four inches and 180 pages long in English Gothic typeface the book is easy to conceal and carry in a pocket.
There are four original copies known to have survived with the only perfect one kept at the National Library of Wales in Aberystwyth.