Severn tolls 'still quicker with cash'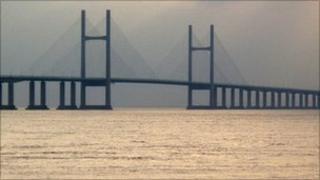 Ryder Cup visitors using the Severn tolls to get to Newport are being told it will be quicker to cross if they pay by cash.
Credit and debit card options are being installed in time for the event, with the cup's practice days just over a week away.
The machines being used will be hand-held chip-and-pin devices, so motorists are being advised to pay in cash.
Officials are also urging visitors to give themselves plenty of travel time.
The Highways Agency is warning that major routes into Wales will see "significant" increases in traffic.
The busiest routes will be the M5 southbound and the M4 westbound, especially at the Severn Crossings.
The agency said it expected to see routes "very busy" from 0500 to 1000 BST right from the start of the opening week of practice starting from Monday 27 September, through to the end of the cup competition on 3 October.
"We would advise all people travelling into Wales while the event is ongoing to plan their journeys," said Graham Bowskill, Highways Agency Regional.
"We know that it will increase people's enjoyment of this popular event if they are able to make their way to and from it with minimal delays."
One of the biggest concerns had been whether credit and debit card payments would be available for those paying tolls on the two Severn bridges on the M4 motorway.
It has been confirmed that the option will be available, however, it will be a temporary measure using hand-held chip-and-pin devices.
"The card payment system is being introduced in recognition of the large number of people from around the world who will be using the crossing for this event," said Norman Baker, the UK government transport minister.
"However, as this will require road users to enter their pin number into a hand-held device, we strongly encourage crossing users to pay with cash for the quickest transit.
"I am grateful to the staff of the Highways Agency who have worked hard to ensure this card system is in place for the Ryder Cup."
The minister said a permanent swipe card system is expected to be in place early next year.
Variable speed
Other concerns about transport arrangements around Newport involving barrier work on the M4 are also being addressed.
Motorists have been forced to divert off the M4 around the city at certain times while central safety fence work and widening improvements have been taking place on a stretch from Tredegar Park to Coldra.
Work is also being carried out on variable speed warning systems.
But the assembly government said all the road work restrictions will be lifted for the duration of the the Ryder Cup event, and the speed system work will have been completed.
However, a 50mph speed restriction in the area will remain in force until later in the year when all the safety work is completed.