Funding for Glyndwr 'prince' site in Denbighshire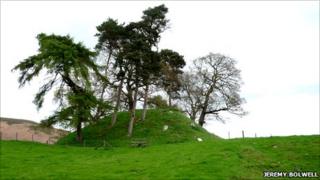 The site where Owain Glyndwr is said to have declared himself prince of Wales is set to undergo conservation work.
The announcement by the assembly government comes on the 610th anniversary of the proclamation at Glyndyfrdwy near Corwen, Denbighshire.
Work will be carried out on the mound or motte as part of a £2m programme to preserve Welsh medieval sites.
Without conservation, historical experts fear the remains of the motte are in danger of collapsing.
"The work to stabilise this iconic monument and improve access to the site will ensure that it can be enjoyed by future generations," said the heritage minister, Alun Ffred Jones.
"It's appropriate that the beginning of this work should coincide with the anniversary of this important event in Welsh history."
Glyndwr was proclaimed prince of Wales on 16 September 1400 at Glyndyfrdwy, effectively marking his rebellion against England.
Despite being ultimately unsuccessful, it led to Glyndwr calling the first Welsh parliament at Machynlleth where he was crowned as prince.