Man worked illegally as dentist in Merthyr and Cardiff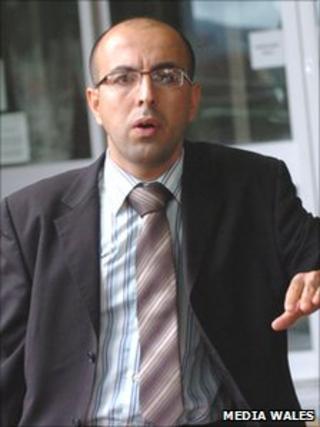 An arrest warrant has been issued for a man who gave dental treatment to thousands of patients while living and working illegally in the UK.
Muhammed Saman, 33, who was born in Iraq and living in Cardiff, faked documents to enter the country.
He was due to be sentenced on 15 charges, but Merthyr Crown Court was told police could not trace him.
Judge John Curran will sentence him on 8 October whether he has been arrested or not.
Saman spent three years working for the NHS in Cardiff and Merthyr Tydfil.
He had used a variety of names to avoid detection, the court heard.
Prosecutor Claire Wilks said: "The police have made significant inquiries but have no trace of him.
"His flat has been emptied, his bank account cleared out and his credit cards are up to their limit."
The court issued a warrant for his arrest and seized his £5,000 bail money.
"Saman's girlfriend fled to Portugal last week - his passport has been flagged so there's an all ports warning," added Ms Wilks.
He worked as a senior house officer with Cardiff and Vale NHS Trust - now part of Cardiff and Vale University Health Board - in an oral unit and in accident and emergency treating facial injuries.
He was arrested at the Hollies Health Centre in Merthyr Tydfil where he ran his surgery.
When police raided his home, they found blank birth certificates and other official documents which had been altered.
Cardiff and Vale University Health Board said in a statement that Saman gave official papers from the Home Office confirming his ability to work in the UK but it was now clear he gained accredited documentation under false pretences.
'Somewhat competent'
The health board stressed there were no complaints or concerns expressed about his work.
It was unclear whether he was qualified to practise as a solicitor or doctor.
Stuart Geddes, of the British Dental Association in Wales, said after the hearing: "It's not an excuse for him but he must've been somewhat competent otherwise he would've been picked up by his supervisors.
"Certainly, if he worked in the hospital services, he would've been subject to continuing monitoring of what he was doing and would've in part been there for instruction as well."
Saman was due to be sentenced for obtaining leave to enter the UK by deception, using a false instrument with intent, obtaining pecuniary advantage by deception, possessing false identity documentation and possessing articles for frauds.