Bangor University to buy £475,000 house for new head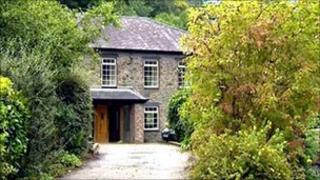 Bangor University is to spend £475,000 on a house for the college's new head and for other college-related uses.
Prof John Hughes takes up the post of vice-chancellor in Bangor this autumn.
The university said it was a common arrangement for colleges across the UK, and it was selling two other houses to contribute to the cost.
Prof Hughes is leaving his role as president of the National University of Ireland, Maynooth, to join Bangor University.
"We have invested in a university-owned house for the vice-chancellor's use, which will also be used to accommodate certain visitors, potential donors and for other fundraising activities," said a Bangor University spokesperson.
"This is a common arrangement amongst leading universities in Wales and across the UK. Prior to this, Bangor did have a house for the vice-chancellor until recently."
The university said it had offered a "competitive package" to recruit what it described as a "top class academic and leader" as the college's new head.
'Substantial investment'
Prof Hughes succeeds Prof Merfyn Jones, and is only the college's seventh vice-chancellor in its 126-year history.
Mari Rowlands, chair of UMCB, the Welsh language students' union, said that the investment was substantial.
"This is the way the university has decided to act," she said. "This is the way other universities are acting at the moment.
"The vice-chancellor is moving from Dublin to a new house as Welsh students move into new buildings, but there is still a lot of work to be done on the buildings.
"We would like an assurance from the vice-chancellor when the work on the buildings is finished."