Marks and Spencer role for award-winning Wrexham baker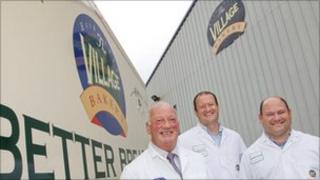 An award-winning baker whose family firm has announced plans to expand has been given a role with retail giant Marks and Spencer.
Robin Jones, joint managing director of The Village Bakery in Wrexham, will help M&S develop its in-store bakeries.
It follows a partnership with M&S which has seen the bakery announce it is expanding and creating 35 new jobs.
The company is equipping a new bakery to meet demand because its main site at Minera is at full capacity.
The expansion is to meet growing demand for products from M&S.
Mr Jones, who was recently crowned baker of the year, said senior M&S executives had visited the Village Bakery.
"During the visit, we showed them a new range of products we've developed and they were absolutely over the moon with our quality and innovation," he said.
"They were also impressed by the concept we had in our retail shop in Wrexham's High Street.
'Survived, thrived'
"As a result, they invited me to be part of their team for the relaunch of their in-store bakeries which will hopefully involve us supplying them with more products in the near future.
"We believe that there is a lot of potential there and we want to develop this business."
Mr Jones said the past couple of years had been a "tough time economically" but the business had "not only survived but thrived".
"The new bakery on the industrial estate will eventually create 35 jobs and we've recently taken on eight more staff next door at the gluten-free bakery," he added.
"We're now one of the larger local employers in the Wrexham area. We're an indigenous family firm and we are proud of the contribution we are making to the local economy."
The company was started by Mr Jones's grandfather in 1934 in Coedpoeth.
The business has now grown to include five retail shops and a wholesale business supplying supermarkets.