Ryder Cup 'acid test' for Wales attracting global sport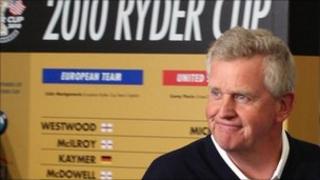 The Ryder Cup is an "acid test" if Wales wants to attract global sporting events in the future, an expert says.
Professor Simon Chadwick from the Centre for International Business of Sport, said if the nation is to become a world class destination then it must build on that success and bid for high-profile events on a regular basis.
His comments come as Deputy First Minister Ieuan Wyn Jones told an audience in the City that the Ryder Cup is a unique opportunity to promote the country.
Earlier this year the assembly government unveiled a 10-year plan to promote Wales as a destination for big name sporting, musical and cultural events.
Speaking to business leaders in London on Tuesday, Mr Jones outlined how Wales is building on a reputation for major sporting events - the Rugby World Cup, the FA Cup and, last year, the first Ashes Test.
"Those events have given our country a high profile - and they've reinforced the message that as a people we punch above our weight," he said.
Mr Jones highlighted that the tournament in Newport on 1 October, has a potential world-wide television audience of two billion, and offers a unique opportunity to promote the country as a location to invest for all types of industries.
He also explained a new policy to ensure the Welsh economy "is fit for the future and ready to compete in high value markets".
But while Professor Chadwick agreed it was indeed an opportunity for Wales to show what it can do, he predicted that income from the tournament was not sustainable int he longer term.
If the aim was to establish Wales as a "global destination", then he said more high profile events - such as the Europa or Champions League football finals or Commonwealth Games - would need to follow.
He said Wales could build on the Ryder Cup by looking at marketing itself as a "niche destination" for "second tier events" such as international cricket.
"Sport has the potential to generate huge amounts of money for cities and countries," he said, "but to be sustainable in the longer term you have to be bidding for and winning major sports events on a regular basis."