Welsh singer Duffy makes acting debut in film Patagonia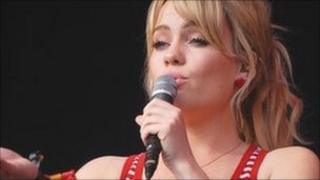 Chart-topping Welsh singer Duffy is to make her film acting debut playing a seductive student.
Patagonia also features Welsh actor Matthew Rhys, who played Dylan Thomas in The Edge of Love and is in US series Brothers and Sisters on Channel 4.
Duffy also sings on the soundtrack for the film directed by Marc Evans, who directed the thriller My Little Eye.
Patagonia premieres at the London Film Festival in November and reaches cinemas in March 2011.
The film is the acting debut of the Brit award-winning singer from Nefyn, Gwynedd, who reached number one with her debut 2008 album Rockferry, which produced the hit Mercy.
Duffy plays Sissy, a Welsh student who livens up the holiday of a young Argentinian man reluctantly chaperoning an elderly relative on a trip to Wales.
In a parallel romance, Matthew Rhys plays a tour guide who strikes up a flirtation with the female half of a Cardiff couple touring Patagonia.
Welsh actress Nia Roberts plays the woman who falls for Matthew Rhys's charms.
The feature film was shot on location in Patagonia and Wales with dialogue in Spanish and Welsh.
'Welsh Marilyn'
Director Evans said: "Duffy was interested in doing a film and Patagonia just happened to be the film I was working on at the time.
"When she saw the script she fell in love with the character Sissy.
"Sissy is meant to be a sort of Welsh Marilyn character and Duffy suited that role perfectly."
Mr Evans described the film as a low budget road movie.
The film was produced by Welsh production compnay Boomerang with backing from S4C, the Film Agency for Wales and private investors.
Evans is already onto his next movie, called Hunky Dory starring Minnie Driver. It is again being shot in his homeland, currently in the south Wales seaside resort of Porthcawl.
He said of Patagonia: "I feel a great affection towards this film. It is a very beautiful, visually stunning film, with beautiful countryside in Wales and Patagonia.
"I think of it as the perfect escape movie for a wet Sunday afternoon."