New tower closure in south Wales Legionnaires' inquiry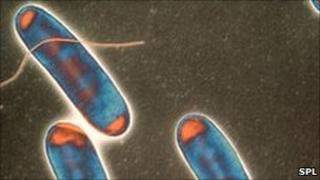 Part of a third industrial cooling tower has been shut as a precaution as inquiries continue into the source of an outbreak of Legionnaires' disease.
Health officials said part of the tower at a Rhymney valley company was closed before cleaning.
This followed the separate closure of two other towers before they were disinfected. Two people have died in cases possibly linked to the outbreak.
None of the premises is confirmed as the source of the outbreak.
Public health experts said the way in which the Rhymney valley site was operating was considered "low risk".
The company was seeking advice on cleaning and disinfection before restarting.
Safety officers have been checking cooling towers in the outbreak area.
Two other cooling towers were previously closed for cleaning, another in the Rhymney valley and one in Merthyr.
A team of more than 100 staff from 10 agencies have been working to find the source, which is believed to be in the Merthyr, Rhymney or Blaenau Gwent areas.
Hospital treatment
The total number of cases of Legionnaires' stands at 19 with all requiring hospital treatment. Some remain seriously ill.
There are four cases possibly linked to the outbreak which remain under investigation.
Two of the four people have died. A 70-year-old man died in hospital on 8 September, and a 64-year-old woman died in hospital on 6 September.
Public health experts expect the number of cases to rise over the next week and have not ruled out further deaths.
Information has been circulated to GPs advising of the steps to be taken if patients have symptoms. A fact sheet is being circulated in the communities affected.
Anyone who is concerned about their health should contact their GP or NHS Direct Wales on 0845 46 47.
Last year, there were 24 confirmed cases of Legionnaires' disease in Wales, most of which were sporadic. On average, Wales has about 13 cases each year.