Alex Jones starts Cardiff 10k charity race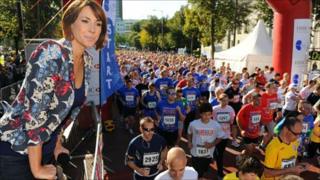 One Show presenter Alex Jones was back home to support thousands of runners taking part in the 25th HSBC Cardiff 10K race.
The presenter, who has a home in the city, started the race at City Hall in aid of the Kidney Wales Foundation.
She then handed medals to runners after they arrived back at Cathays Park, after a route which snaked around the city, through Cardiff Castle's grounds.
Main routes through the city were closed until 1130 BST.
Jones, who has taken part in the race herself over the previous three years, is a patron of the foundation, and said she was "looking forward to seeing the charity continue its progress over forthcoming years".