Weekend 'open doors' at historic sites across Wales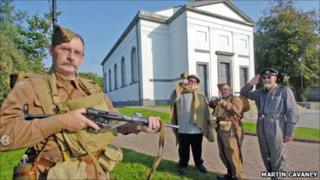 Historic buildings across Wales, some not usually open to the public, are throwing open their doors this weekend.
Cadw and Civic Trust Wales' Open Doors initiative includes opening all Cadw sites for free on 12 September.
Meanwhile a building in Pembroke Dock has been transformed back to the 1940s era.
The home guard are back on duty at the town's Garrison chapel, where there are plans to establish a military heritage centre.
The restored Georgian chapel - taken over by the local council in 2003 - was being occupied by members of the Glamorgan Home Guard, a living history group, to recreate wartime Pembrokeshire.
Military and civilian vehicles from the period are also on view.
Archives
The medieval Pater Church Tower is also being opened to the public. Its three levels are reached by a very narrow and steep spiral staircase.
"It will give everyone a chance to view the hidden heritage of Pembroke Dock," said deputy council leader John Allen-Mirehouse.
Some of the tours across Wales require advance booking, and range from ghost walks around Cardiff to a look around Dolaucothi Gold Mines in Carmarthenshire.
Other events as part of Open Doors include tours of castles and churches in Gwynedd, and Llanfyllin Union Workhouse in Powys, and a display of community archives at Denbigh town hall.
Meanwhile Conwy Rotary Club are holding horse and carriage rides around the historic town on Saturday.