Moelfre lifeboat crew rescues man and wheelie bin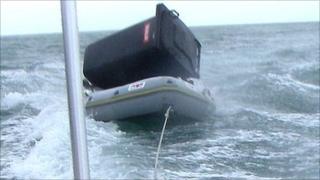 Lifeboat crews have made an unusual rescue off the coast of Anglesey - an 81-year-old man and a wheelie bin.
The man had gone out in a small inflatable dinghy to recover his neighbour's bin which had swept out to sea in strong winds, in a high tide.
He was blown about a mile off Red Wharf Bay until Moelfre inshore lifeboat was launched to rescue him.
He was picked up suffering from mild hypothermia and taken to hospital in Bangor by ambulance.
The crew said the man was not wearing a life jacket or waterproof clothing.
His dinghy was also half full of water because of the sea conditions.
The Moelfre crew then went back out to tow in the dingy and wheelie bin, which was still half full of rubbish.
Moelfre lifeboat station spokesman Dave Massey said: "Everyone at the Moelfre lifeboat station wishes the gentleman a speedy recovery.
"The volunteer lifeboat crews at Moelfre have dealt with a wide variety of emergency calls over the years but I am sure that this is the first time we have been involved in towing in a wheelie bin."
The Welsh coastline was hit by some of the highest tides of the year on Friday.