Cases of Legionnaires' in south Wales rise to 17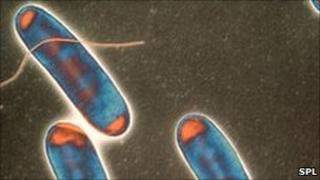 Three more cases of Legionnaires' disease have been identified as part of an outbreak in south Wales which is linked to two deaths.
The total number of cases is now 17 with all requiring hospital treatment.
Public health experts believe the source is in the Merthyr Tydfil, Rhymney or Blaenau Gwent areas.
A cooling tower in Merthyr was shut down but the company was able to restart work after cleaning and disinfecting it.
The cooling towers were not being operated in accordance with Health and Safety Executive (HSE) guidelines, said officers.
However, the site, at Dowlais, was not confirmed as the source of the outbreak.
Dr Roland Salmon, consultant epidemiologist at Public Health Wales, said the premises came to light while they were checking all industrial sites in the area and there was no definitive link between the illness and the cooling tower.
"When an order like this is, as I understand issued by the HSE, all that means is that the sort of procedures that are in their code of practice aren't being observed," he said.
"That's some way short of suggesting this is indeed the cause of the outbreak."
Two deaths have been linked to the outbreak, a 70-year-old man and a woman, 64, from Pontypridd.
While there are 17 cases, there are also four suspected cases, which include the two people who died.
HSE has inspected all registered cooling towers and evaporative condensers in Merthyr, Rhymney and Blaenau Gwent.
Some 10 premises were visited and four improvement notices were served on companies.
Another three premises that were not registered with the local authority were identified and visited.
Environmental health officers have been involved in taking samples from sites to try to identify whether the Legionella bacterium is present. Results are not yet available.
More than 100 other workplaces in the area have also been visited.
Dr Gwen Lowe, chair of the outbreak control team and consultant in communicable disease control for Public Health Wales, said: "Our investigations show that there is no single building visited by all the people linked to the outbreak.
"The sources, or source, are therefore likely to be industrial processes such as cooling towers.
"Environmental health officers and Health and Safety Executive officials have visited and checked all the registered cooling towers in the area under investigation. They have also visited unregistered cooling towers. These investigations continue.
"We have no evidence that the cooling tower served with a prohibition notice is linked to any cases of Legionnaires' disease."
Medical advice
She said a team of more than 100 staff from 10 agencies had been working to find the source of the outbreak.
She added: "We are advising members of the public that there is no need to change their normal behaviour as a result of this outbreak.
"No-one needs to avoid visiting the area concerned as the risk of contracting Legionnaires' disease remains low.
"If people are unwell and are concerned about Legionnaires' disease, they should seek medical advice."
The councils involved in the investigation include Cardiff, Merthyr Tydfil, Rhondda Cynon Taf, Caerphilly, Blaenau Gwent, Torfaen and Monmouthshire.
Last year, there were 24 confirmed cases of Legionnaires' disease in Wales, most of which were sporadic. On average, Wales has about 13 cases each year.