Cardiff Astronomical Society open new observatory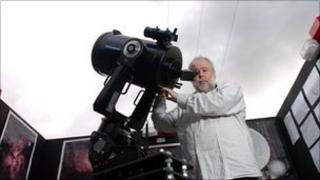 The end is in sight in stargazers' long search for a new home - with the opening of a new observatory.
Cardiff Astronomical Society has been without its own observatory since 1979, but now a new one has been built at Dyffryn Gardens, Vale of Glamorgan.
The opening came 35 years to the day of the society's first meeting for amateur astronomers.
Society chairman Roger Butler said: "This has been many years in the making."
'Wonders of our universe'
The society is one of the largest in the UK and despite its name has more than 300 members from across South Wales and the West Country.
It caters for amateur astronomers and holds lectures, short talks, debates and observing sessions.
One of their most famous guest speakers in recent years was Sky at Night presenter Sir Patrick Moore.
The society started out using the Penylan Observatory in Cardiff but that was demolished in 1979 and the society has sought its own observatory ever since.
They came close when they were granted permission to build an observatory at Castle Heights but the plans fell through.
The new observatory was opened by Professor Mike Disney of Cardiff University's astronomy and physics department.
Mr Butler, said: "It has taken a lot of hard work from our members and committee to get to this point.
"Our members will be using the observatory to carry on the important work amateur astronomers undertake.
"We will also be opening our doors to members of the public to educate them about the wonders of our universe."