Parties and prayers celebrate Eid across Wales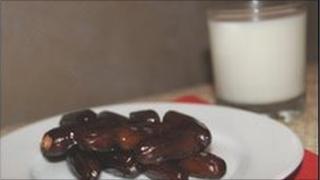 The Muslim community in Wales is celebrating the end of Ramadan, the Islamic holy month of fasting.
In Cardiff the Eid el-Fitr holiday was marked with morning prayers around the city's 11 mosques, before families returned home for a day of feasting.
Some 600 people attended prayers at Cardiff City Hall, while children's parties are being held across Wales.
"It's a day of celebration for the Muslim community," explained Mohammed Javed of the Muslim Society of Wales.
There are around 30,000 Muslims living in Wales, with up to 10,000 in the capital city alone, said Mr Javed.
The city is home to one of the oldest Muslim communities in the UK.
For most the 30 days of Ramadan, a time of reflection, devotion, generosity and sacrifice, will have been marked with a strict fast between dawn and dusk, traditionally broken with a dish of dates and a glass of milk.
Eid el-Fitr - in Arabic Eid means "festivity" while Fiṭr translates as "conclusion of the fast" - represents a reward for carrying out the observance.
"The day begins with morning prayers and afterwards families go home and we have a feast," said Mr Javed, a retired businessman who moved to Wales from Pakistan in 1969.
"Very often this involves moving from house to house visiting friends and eating with them. The children are involved, we distribute sweets and things.
"When people do not eat during the daytime for one month they tend to make up for it afterwards."
The feasting will continue until around 10pm when there will be a late evening prayer.
Eid el-Fitr is one of two Eids celebrated by Muslims. The other, Eid al-Adha, commemorates the end of the annual pilgrimage, the Hajj.