Pilgrims' progress for St David shrine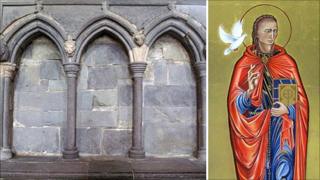 A mother and daughter will finish a walking pilgrimage to Pembrokeshire later as they raise funds to restore a medieval shrine to St David.
Gill and Clare Rabjohns have spent the past 10 days making the journey on foot to St Davids cathedral.
It is part of an appeal for the ancient shrine to the Welsh patron saint, destroyed during the Protestant Reformation some 500 years ago.
The cathedral hope to raise £150,000 to return it to its former glory.
According to the cathedral website: "The restoration of the shrine will return the relics of St David to their rightful place in the cathedral".
The shrine dates back to the 12th Century and became the most important religious site in Wales, leading Pope Calixtus II to declare it a place of pilgrimage.
He believed that two pilgrimages to St Davids were the equivalent of a pilgrimage to Rome, while three trips to the shrine were on a par to a trek to Jerusalem.
"The reality is that St Davids was the biggest site of pilgrimage in Wales for hundreds and hundreds of years," said Father Harri Williams, secretary of the Friends of St Davids Cathedral.
But the stone monument to be found in the cathedral's presbytery was wrecked during the 16th century, during attacks after Henry VIII's dissolution of the monasteries.
Half a millennium
Today, the shrine is a bare stone monument, with the relics of St David kept safe in a casket in the cathedral.
But Fr Williams wants to see it restored to how it may have looked half a millennium ago.
"We certainly know there were images of St David on it, and his life and those of other significant saints connected with the Celtic church, " he added.
"There were places for people to offer their gifts and also a place for them to actually be able to reach and touch the relics of St David himself."
A local artist has been commissioned to produce icons to five saints with close ties to Wales that will sit within the arches, including the one to St David which has already been approved.
Gill and Clare Rabjohns hope to be the first to donate to the restoration fund when they finish their epic walk on Friday.
'An adventure'
"It's been an adventure," said Mrs Rabjohns, who has had to endure much of the journey with her daughter Clare in soaking conditions.
"People have just stared at us from their cars, especially when we were very, very wet," she joked.
"But we felt we had to keep going, because we were promising this journey."
Her daughter Clare added: "It was sort of a joint idea really, pilgrimage has always been part of our lives."
The cathedral's dean, the Very Reverend Jonathan Lean, said he hoped that restoring the shrine to St David would encourage even more visitors to come to Wales' smallest city.
"I think what we want to achieve is to try to make the visitors into pilgrims, so that when they come here they are coming for a purpose," he said.
"People make huge efforts to visit these holy places, and to make this a focus for the people of Wales in particular would be a really wonderful thing to achieve."