Plaid Cymru will 'change not manage' says leader Jones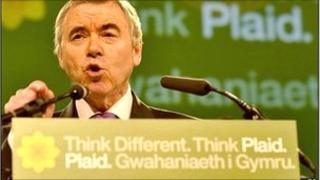 Plaid Cymru's annual conference opens at Aberystwyth later with the party promising to transform, not simply manage Wales.
Plaid will use the conference to set out its vision ahead of next May's assembly election.
Leader Ieuan Wyn Jones claims this will be "ambitious and radical" to meet challenges through to the next decade.
Events will include the launch of ideas drawn from not only party members but also the public.
These will be debated within the party as it prepares its 2011 election manifesto.
Plaid is referring to next May's election as the first Welsh Parliamentary election - in expectation of a 'yes' vote in a referendum on further powers for the national assembly, expected next March.
This would give the assembly full law-making powers in policy areas which are already devolved.
"Radical and ambitious"
Mr Jones said: "Our plan for the coming Welsh parliamentary election will be radical, ambitious and above all else designed to meet the major challenges that we face as a nation, not just during the next few years, but through to the next decade.
"Yes, the cuts and economic conditions in the next few years will be tough and we will continue to do everything we can to protect jobs and services.
"But we cannot, and Plaid will not, let austerity beat ambition in the challenging times that lie ahead.
"Plaid didn't come into being to put up with things as they are or to simply manage Wales, but to change Wales and meet the ambitions and aspirations of its citizens."
'More determined'
The Plaid leader, and deputy first minister in coalition with Labour in Cardiff Bay, added that the last few months had seen "the heralding of a new way of thinking" in his party, which it would begin to outline during the conference.
Mr Jones has already begun the process of setting out policies, with a call for the devolution of broadcasting powers in his speech at the Eisteddfod.
The current economic and financial climate is expected to be central to many debates and fringe meetings, with the party warning of the dangers of cutting public spending too quickly.
Plaid president Jill Evans said that with new powers for the assembly there would be a greater expectation and responsibility on a new parliament to "make Wales the sucess story of 21st Century Europe" over the next decade.
Ms Evans added: "This new focus is making the party even more determined to frame the vision and we believe that it is this that will set Plaid apart from the others in the coming election."