Rural Wales waits for funding axe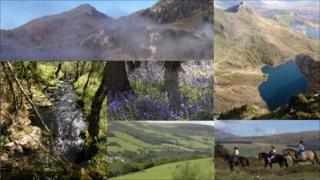 Some of Wales' largest conservation bodies are expecting large funding cuts, BBC Wales has learned.
Sources at the Countryside Council for Wales (CCW) say it is already preparing for projections of up to 25% in cuts.
The assembly government is looking at its possible merger with the Forestry Commission and Environment Agency as a way of protecting rural investment.
But some conservationists now fear the sector will be hit hard in the UK Government's autumn spending review.
On the other side of Offa's Dyke, the Natural England Agency is looking to shed 800 jobs.
But in Wales, the environment minister Jane Davidson's view that she would like to see the bodies merge is seen as approaching the problem with a Welsh solution.
If operations can be streamlined as much as possible, services could be retained whatever cuts are handed down from London.
The CCW's new chairperson Morgan Parry says he applauds the thinking, and is even optimistic about the future.
"I would argue that the environment is the basis for just about everything else we do in Wales. The economy depends fundamentally, ultimately on it," he argued.
He said he believed a review of the CCW, along with the Forestry Commission and Environment Agency, was not about saving money - rather striking the optimum way for Wales to manage its natural environment.
"We have very strong messages from the minister that the reorganisation is not about cost cutting, and she will not allow, I don't think, for anything to be cut that means the Welsh environment suffers," he said.
Natural resources
"I think there is a logic for the merger."
Sources within the CCW have told BBC Wales that they are working on a projection of 25% cuts in future. Its budget actually increased last year to £43m, and it employs more than 480 staff.
Like the National Trust, the CCW is in charge of vast areas of sensitive environments.
It owns Skokholm Island off the Pembrokeshire coast, where some fear any cuts would cause lasting damage.
"What's going to happen to the sites that they actually manage at the moment?" questioned Lyndsey Maiden, who works for the South and West Wales Wildlife Trust on Skokholm.
"How are they going to be managed? Are they going to be managed by organisations such as ourselves and what capacity are we going to have to actually deliver on that?
"I don't see how they can avoid cuts really. I do think conservation will be seen as the bottom of the pile, unfortunately.
"Even though our natural resources are probably one of the best things that we have going for us in the sense of tourism and opportunities for people to come and see what we have here."
The Forestry Commission is also preparing for the worst.
This year, the commission has a £40m budget and almost 400 employees in Wales.
It too is thinking where to save - and is working on a 13.5% cut over the next three years.
'Streamlining'
But Peter Ogden from the Campaign for the Protection of Rural Wales (CPRW) stressed that any savings could not be divorced from thinking about the Welsh environment in a wider context.
"We've got to be sensible, we've got to do the audit first. We shouldn't make the assumption that job cuts are automatic," he said.
"If there is duplication, if there is overlap, then yes, let's streamline it - let's make it even more efficient at less cost.
"There is no certainty that the environmental engine is broken, and let's not try to repair something that is doing a good job at the moment."
Of all the agencies, the largest with almost 1,100 staff and £95m a year to spend on floods, regulating pollution and conservation is the Environment Agency in Wales.
Over the past three years, savings of almost £9m have been made and 130 staff cut.
But if these three very different organisations are being touted to merge, some Conservatives, like the shadow local government spokesman in the assembly, Darren Millar, question the timing - and the reasoning.
'Last minute'
"I think it is ridiculous that these proposals are coming forward just because of the potential for cuts as a result of what is happening at a UK government level," he stated.
"If there are efficiencies to be found through collaborative working, then these should have been happening a long, long time ago and we shouldn't be waiting until now, until the last minute, until the cash is running out before implementing them."
However, responsibility for many key elements of the environment and rural affairs remain devolved issues in Wales, so decisions on spending may take months after the Chancellor's broad statements have been made in October.
Possibly not even until late January or even February.
The longer the wait, the worse the speculation and rumours will be on which agency or organisation faces spending cuts, and by how much.