Can Gavin Henson waltz his way to success on Strictly?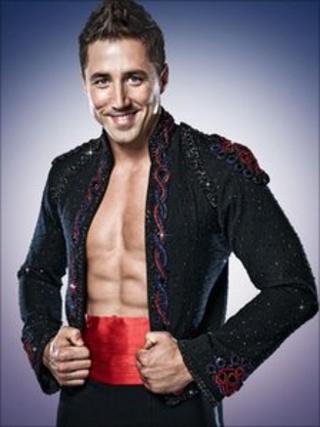 Gavin Henson's rugby career may be on hold but the Wales rugby international is hoping to waltz his way to success in this year's Strictly Come Dancing.
Henson, ex-partner of Charlotte Church, follows in the dance steps of sportsmen Colin Jackson and Joe Calzaghe.
Jackson shimmied all the way to the final in 2005 but boxer Calzaghe displayed rather less skill as he made an early exit last year.
Fellow Welshman Gethin Jones came third in the 2007 show.
But Henson, 28, found himself back in the rugby spotlight as he was today unveiled wearing the new Wales jersey in a Welsh Rugby Union marketing campaign.
The WRU says the marketing campaign includes "stars of past and present". But as Henson remains on indefinite unpaid leave from rugby it is not clear which category the Ospreys centre fits into.
And Wales centre Jamie Roberts joined the debate on Henson promoting the national team's new kit.
Posting on his Twitter account, Roberts asked: "Is this an insult to current welsh International players....wonder what the welsh public will think?!" Roberts then links to a 50ft-high picture of Henson on the Millennium Stadium.
Former Ospreys star Henson, who has two young children Ruby and Dexter with Church from whom he split in June, is fast carving himself a new niche as a reality TV star.
On Saturday, he can be seen on new ITV show 71 Degrees North hosted by Gethin Jones, where he and other celebrities compete in a variety of extreme arctic challenges.
They included swimming in an icy fjord and climbing a frozen waterfall.
He said: "I pushed myself to the limit on everything and I risked my life seven or eight times maybe.
"When you want to win you do crazy things."
He has also appeared in science show Human Guinea Pig on Bravo earlier this summer.
'Cheeky vote'
Henson's move into reality TV comes amid continuing speculation about his rugby career.
The Wales Grand Slam winner has not played for his country since March 2009 though he claims he wants to return to the game.
In an interview earlier this week: "Hopefully I can get back into rugby, do well and get into the [Wales] World Cup squad."
But his involvement in Strictly means Henson will not be available to play until Christmas unless he exits the show early.
And his regional side Ospreys said Henson has not spoken to them about any intention to return to the game.
Speaking earlier this week on Radio Wales' Good Morning Wales, Ospreys director of rugby Scott Johnson said: "If Gavin said that he hasn't said that to me.
"Since I've been back in Wales I have had one conversation with Gavin Henson."
But Henson has the backing of at least one teammate after Ospreys and Wales star Shane Williams said he would be voting for Gavin - though he called into question his dancefloor skills.
"I'm sure I'll have a cheeky vote for him when he does actually start showing us his stuff on the dancefloor.
'Puffing'
"I'm not sure how good he's going to be to be honest with you because having spent a lot of time with Gavin he couldn't really dance very much before so unless he been practising quite profusely, we'll have to wait and see."
Former MP Ann Widdecombe was also revealed in the line up for this year's Strictly Come Dancing.
Speaking on BBC Radio Wales, she said: "I think Gavin is utterly charming.
"Like me he was a bit bewildered at first but of course he can lift the ladies so easily.
"Whereas everybody else is puffing he can do it with one hand almost."