Rhys Harris' life-saving donor remains anonymous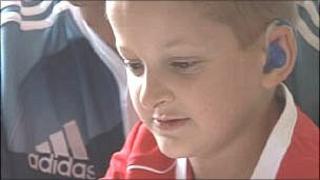 A father whose young son almost died due to a rare genetic disease says he may never get to personally thank the donor who saved his life.
Rhys Harris, of Newbridge, Caerphilly county, was one of only a few dozen people in the world with Nemo.
The nine-year-old received a bone marrow transplant in 2007 and was given the all clear at the end of last year.
His father Kevin had hoped to thank the donor, a United States citizen, in person but he has remained anonymous.
Mr Harris said: "Basically, donors sign a sheet of paper saying they want to remain anonymous or they don't mind someone getting in touch if it's gone well.
"He might have ticked the box saying he wants to remain anonymous.
"We've sent all the stuff through saying thank you with our address and nothing has been reciprocated so it looks that way."
Mr Harris said he did not know for sure because direct contact with the donor was not allowed.
The family's correspondence was sent to the USA through the specialist unit in Newcastle where Rhys had his transplant.
"We may just do it again because it means so much," added Mr Harris, who said he would be willing to travel to the USA to meet the donor.
"You never know, the guy might be in the army or something like that. I'm hoping he might come back when it's all settled down."
Rhys has made steady progress since his transplant to replace his faulty immune system.
He had previously spent time living in isolation in a sterile bubble.
At the end of last year, doctors told the family that Rhys' blood test results showed his immune system was working independently.
'Very lucky'
Mr Harris said his son now lived the life of a typical young boy.
"He's fantastic, he's really good. We've been very very lucky," he said.
"He's still got a few problems to get through. The chemotherapy tightened up his tendons so he had to get them cut and his hearing is still affected.
"But he's back at school. He loves just playing about - on the computer, with his brother, his school mates... rugby, swimming, fishing.
"He's just a normal nine-year-old who just enjoys life. We count our blessings every day."