Gavin Henson 'risked life' filming TV show in Arctic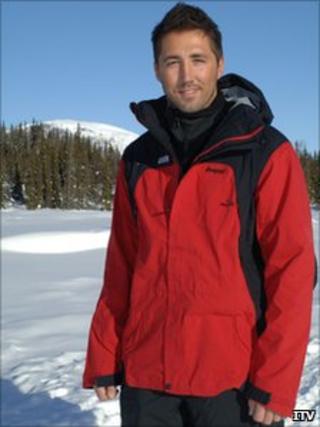 Rugby star Gavin Henson claims he risked his life "seven or eight times" when filming a TV reality show in the Arctic.
The Wales Grand Slam winner took part in the ITV1 show 71 Degrees North in Norway.
But, despite braving temperatures of -30C (-22F) and the risk of frostbite, Henson said it was an emotional reunion with his children that reduced him to tears.
The show starts on Saturday, 2100 BST.
The Welsh international joined 10 celebrities, including GMTV's Andrew Castle, Shane Richie and Footballers' Wives star Susie Amy, to compete in a series of filmed endurance feats.
They included swimming in an icy fjord and climbing a frozen waterfall.
He said: "I pushed myself to the limit on everything and I risked my life seven or eight times maybe.
"When you want to win you do crazy things."
The rugby player was challenged to swim, ski, trek and climb his way across the hostile terrain to the Arctic circle.
But the star, who has two children, Ruby and Dexter, with former partner Charlotte Church, said it was easy to put a brave face on, that is until he saw his children after being away from them for several weeks.
He said: "When I left, Dexter wasn't really walking and then I came back and saw him in a hotel room and he shouted my name 'daddy' and ran across the room.
"That was unbelievable and I felt I'd been away too long. I hadn't cried since I was 17 and I broke my leg but that drove me to tears."
The extreme environment saw several contestants and crew suffer with hypothermia and frostbite.
Each week the celebrities were split into two teams and had to battle it out for a night in a luxury cabin.
The unlucky losers were forced to tough it out in sub-zero temperatures in a tent.
The contestants were voted out one by one by their peers.
The show is presented by Gethin Jones and Kate Thornton.
And, despite the various perils of the Arctic, the only person to suffer an injury was Thornton.
She said: "I fell over outside the hotel trying to get reception on my phone.
"I fractured my ribs and ended up in hospital having x-rays and all that and had to get strapped up."