Language campaigners warn of direct action on S4C cuts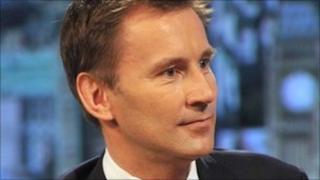 Welsh language activists say they will take "non-violent direct action" to protest against cuts in S4C's budget.
Cymdeithas yr Iaith Gymraeg, the Welsh Language Society, says it will repeat the "tactics" used in the campaign to set up the channel.
An open letter to Culture Secretary Jeremy Hunt says "savage" reductions will threaten the language and economy.
Mr Hunt's department said no final decisions have been made on cuts, and S4C said it wanted an open discussion.
The Media Guardian website has reported "sources close to the channel" and the Department for Culture, Media and Sport (DCMS) as saying that the coalition UK government would cut the channel's £100m grant by 6% a year for the next four years.
S4C received a grant of £101.647m for 2010 from the Department of Culture, Media and Sport.
Menna Machreth, chair of Cymdeithas, told the BBC Mr Hunt's intention to make cuts to S4C's budget was "a clear threat to the Welsh language".
She said: "We are not going to sit down and do nothing and wait for the government to announce these cuts.
"We want to be proactive as campaigners and defend the only Welsh language channel we've got and the very unique investment in the Welsh language."
Back in the late 1970s and early 1980s, activists campaigning for a Welsh language channel staged sit-ins in BBC and HTV studios, with some taking more extreme measures, including attacking television transmitters in Welsh-speaking areas.
Many were prepared to run the risk of prosecution or even a prison sentence, a means of protest Cymdeithas says it has not ruled out.
Ms Machreth said: "We are not afraid of going down that route because S4C is such an important institution for the Welsh language."
In her open letter to Mr Hunt, Ms Machreth wrote: "Perhaps you are not aware that the channel was established following national pressure from all directions, including non-violent direct action: a number of people were imprisoned to ensure that the government at the time kept their promise to establish a Welsh language channel for Wales.
"The people of Wales will not give in to the government's cuts lightly, we will campaign in the same way against your government if you continue with these unjust plans."
The letter went on: "We, in Cymdeithas yr Iaith Gymraeg, will not accept cuts to S4C, and note that the broadcaster's budget is protected in law.
"No MP who votes for changing the law to cut S4C's budget, which is an investment in the language and our communities, deserves the support of friends of the Welsh language either.
'Clear, economic threat'
"We consider your proposal a discriminatory act against the Welsh language, especially at a time when you are making every effort to increase and protect the profits of other broadcasters."
The letter said cuts would be a "clear economic threat: people will lose their jobs in many parts of Wales and it will be a massive blow to the economy in areas where S4C's investment is critical".
"Creative industries, of which S4C is a major part, represent between 22,000 and 30,000 jobs in Wales and contribute up to £500m to our economic output."
S4C was founded in 1982 after a campaign which included acts of civil disobedience.
It has been in the headlines recently after its chief executive, Iona Jones, left the channel suddenly in July, for so far unexplained reasons.
S4C said in a statement: "We are aware that the Welsh Language Society and individuals in Wales and beyond are worried about the effects any financial cutbacks would have on S4C.
"We welcome open discussions about the future of the channel and public broadcasting through the medium of Welsh.
A Department for Culture, Media and Sport spokesman said: "No decisions about departmental cuts have been finalised and while we welcome input from interested parties we are not commenting on speculation ahead of the Comprehensive Spending Review in October."