Welsh rugby captains leave for Kilimanjaro charity climb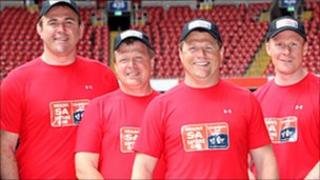 Fifteen former Wales rugby captains have left for Tanzania ahead of their climb of Mount Kilimanjaro to raise money for a cancer charity.
The team, including Ieuan Evans, Rob Howley and Colin Charvis, are attempting to raise £1m for the Velindre Cancer Centre.
Mount Kilimanjaro is Africa's highest mountain at 5,891.8m (19,330ft).
The group, which includes 15 members of the public, have a 10-day window to ascend the mountain.
Sport photographer Huw Evans, whose family has been affected by lung cancer, is behind the Captains' Climb which will begin on Wednesday.
Before departing Wales for Africa on Monday one of the former captains, Jonathan Humphreys, said: "I'm looking forward to getting up there and getting it done now.
"We've talked about it for a long time, now the climb is nearly upon us.
"It's going to be an amazing challenge, once in a lifetime, and it's something I'm really looking forward to."
He said the training had gone as well as he could hope.
"Trying to squeeze it in around the job is a challenge in itself but it's been okay."
Wales coach Warren Gatland and BBC Wales rugby pundit Eddie Butler are also attempting the ascent and return.
It is expected to take seven days.
Gareth Thomas, who is still playing rugby league for the Crusaders, was originally in the group but had to drop out due to team commitments, and was replaced by Michael Owen.
Andy Moore is also a replacement for Jonathan Davies.
Humphreys said: "It's going to take five and a half days up and one and half back down again.
"I've been training hard to ensure that I'm in good condition for the challenge, which will be as tough as anything we ever faced on a rugby pitch, if not tougher."