Worry over local identity in Welsh council shake-up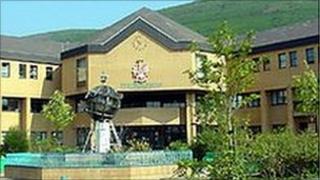 Some community identities in Wales may be "wiped clean" by proposals to shake up local councils, it has been claimed.
The body representing local authorities says communities could be "chopped in half" and mixed with different areas to fit a "mathematical exercise".
The Welsh Local Government Association (WLGA) responded to plans to cut councillors and make boundary changes.
But boundary commissioners and assembly government ministers say change is needed to be fair to electors.
The Local Government Boundary Commission for Wales has just published final proposals for four councils -Anglesey, Denbighshire, Neath Port Talbot, Newport - as well as draft plans for Bridgend.
If accepted by Local Government Minister Carl Sargeant, the total number of councillors in these areas would be reduced by 21.
Studies have also been carried out for the rest of the 22 local authorities in Wales.
Daniel Hurford, head of improvement and governance of the WLGA, said local councils knew there had been changes.
"It's been a number of years since the last review was undergone and obviously in each council area there has been new housing estates developed [and] population changes, so there does need to be a review," he said.
But he said the concern among local authorities was not just the issue of a reduction in the number of councillors.
"The key issue is the impact on communities," he told BBC Radio Wales.
'Challenging role'
"In order to make those reductions the boundary commission has looked at merging a number of communities - chopping communities in half and putting them together so you are mixing rural and urban wards creating large communities.
"Our argument and that from authorities and members of the public as well is that it is a mathematical exercise.
"You're not talking about exactly the same communities across a council area, let alone across Wales. You're talking about large rural areas which have specific needs compared to urban areas which might have particular issues of deprivation."
He said the commission had the "challenging" role of looking at what local communities felt about their own identities.
In Neath Port Talbot, there were responses from councillors, MPs and AMs, and "from over 250 other organisations, community groups and residents who were saying 'We don't agree with the proposals because we don't recognise this community'."
Mr Hurford said the WLGA recognised population change had to be taken into account and council ward boundaries needed some change.
"We've got very different communities. It would be wrong for a one size fits all mathematical exercise to wipe clean that history of community identity in one fell swoop."
Edward Lewis, secretary to the commission, has said it is "obviously" not fair for one councillor to represent about 650 voters, while another would have 6,000.
He said the commission wanted "greater equality for the electors and councillors for each area because it is important in terms of democracy".
A Welsh Assembly Government spokesman said before the WLGA's comments: "We are in a six-week consultation period during which representations can be made to the Minister for Social Justice and Local Government, Carl Sargeant.
"After this time the minister will consider the report and consultation responses before announcing his decision. It would not be appropriate for us to comment on the commission's recommendations at the moment."