Outward Bound hit by 'claim culture'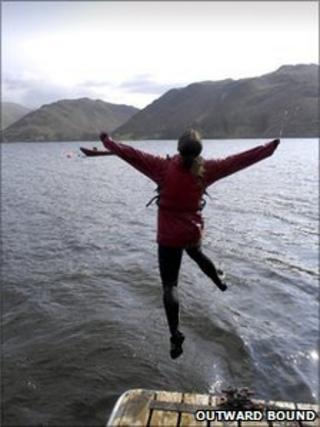 The recession and a legal claim culture is making it harder to get youngsters involved in activity holidays, the head of Outward Bound in Wales has said.
Outward Bound is celebrating its 70th year since it was started in Aberdyfi.
"If we were simply another adventure holiday company, then I'd say we probably would fold inside another 70 years," said Andy Jeffrey, who runs the centre in Gwynedd.
The organisation is asking for stories and memories from former participants.
Mr Jeffrey said: "We're faced with a much more disposable, easy-come, easy-go, Xbox generation, who it's a lot harder to convince that some things in life are worth working for.
"Combined with that, the recession and litigious culture is making it harder and harder to attract the same number of people through the doors."
Outward Bound can now boast dozens of activity centres, from LA to Hong Kong, but in October 1941 it all started in one tiny boarding house in Aberdyfi, Gwynedd.
"We want to know what Outward Bound has meant to the three or four generations of people who've come on our courses over the years," said Nick Barrett, Outward Bound chief executive.
He added: "Over the years technology and equipment have improved, but the mental and physical pressures remain as daunting as ever.
"The weather will always be unpredictable, the mountains high and the challenges great yet joyously achievable."
Outward Bound was set up by the first headmaster of Gordonstoun public school in Scotland, Kurt Hahn.
Among Gordonstoun's first pupils was the Duke of Edinburgh, who later started his own outdoor scheme founded on the principles Hahn established.
When World War II struck, Mr Hahn was advised to evacuate Gordonstoun to North Wales, where he conducted the school's outdoor activities in Aberdyfi.
After VE Day, he was determined that the programme should not be shelved, and so adapted it to achieve similar results with economically-deprived children.
New centres opened across the Lake District, Devon, Scotland and abroad, but Aberdyfi remained the organisation's nerve-centre.
Mr Jeffrey said: "Aberdyfi and the Outward Bound Centre are inextricably linked. Over the course of a summer, we bring in 7-8,000 students, and anywhere up to 100 staff.
"In return the local community unstintingly support what we're trying to achieve here; everyone is just proud that their stunning natural environment can help to make a real difference to young people's lives.
"The thing we strive to get across to everyone who comes on one of our courses, is that the experiences and achievements they have will be transferable to every single challenge they'll face for the rest of their lives."