£25m funding to help older people in Wales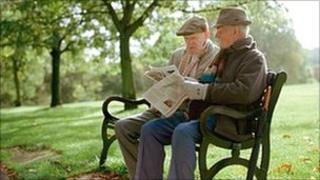 Older people in Wales are to benefit from £25m in funding aimed at combating loneliness and unemployment.
The money, £20m from The Big Lottery Fund (BIG) and £4.3m from its Life Skills programme, will be awarded to support services over the next year.
Statistics show Wales has a higher proportion of older people over 50 than any other country in the UK, said BIG.
Support services welcomed the funding saying it would make a significant and lasting difference.
Launched by Gavin and Stacey actress Margaret John, BIG said the £25m funding programme represented its largest strategic investment in Wales.
The organisation's £20m AdvantAGE scheme would improve older people's quality of life and fill gaps in service provision, partly through befriending projects.
Surveys showed that more than one million (11%) of people aged 65 or over in the UK have said they are always or often feel lonely, said BIG.
These people are more at risk of depression and ill-health caused by isolation and loneliness.
The £4.3m Life Skills programme is designed to help older people increase their confidence by re-engaging them in education, learning, volunteering and employment.
Figures showed that the number of jobless older workers in the UK has increased by more than 50% in a year to the highest figure in a decade, said BIG.
Fran Targett, BIG's Wales committee member and chair of the AdvantAGE programme, explained the reasoning behind the project saying that, to many, older age brought challenges which without support could be daunting.
"That's why we are making funding available to tackle social isolation and loneliness to improve older people's wellbeing and quality of life," she said.
"Older workers also have a wealth of talent and experience which will aid economic recovery.
"The Life Skills programme aims to show that age should not be a barrier and will help ensure these vital skills are not lost."
'Real difference'
Victoria Lloyd of Age Cymru said the two packages represented a welcome boost for local services.
"This £25 million will make a significant and lasting difference for older people across Wales," she said.
Alun Thomas, head of policy for the Older People's Commissioner for Wales, said the funding could "make a real difference in the lives of older people".
The AdvantAGE programme will make grants of between £200,000 and £1m available for projects running for between three to five years to voluntary organisations.
The closing date for applications is Friday 29 October 2010.
Until September 16, 2010, groups in Wales that help people aged over 50 back into training or work, can bid for a share of £3.4m through Life Skills.
Applications for the rest of the money, nearly £1m, can be made until October 1.