Lift-off for reborn Llangollen balloon festival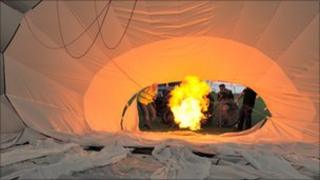 A two-day festival has gone ahead in Denbighshire after a previous event with hot air balloons was cancelled over concerns about weather conditions.
Organisers of the Great Llangollen Show said it would be mostly under cover at the Royal International Pavilion, but balloons would be the main attraction.
The original event was cancelled amid uncertainty of early autumn conditions.
The town's chamber of trade said it was acutely aware of the impact on local business if it lost the festival.
Among the show attractions are a zip wire ride across a field, mountain bike displays and obstacle course, axe throwing, the Llangollen land train, a firework display and craft stalls. The show also retains the popular night glow display of hot air balloons.
The weekend of activities is the brainchild of the Llangollen Chamber of Trade and Tourism, led by its chair, businesswoman Stephanie Booth.
'Hugely different'
Event spokesman Nigel Davies said before the event began that the Great Llangollen Show was "hugely different" and it wanted to create a much broader scope and local appeal.
"The previous event focussed entirely on balloons, but the new event is combined with other attractions," he added.
"In previous years the balloon festival was so weather dependent and you only needed a two-knot wind and the balloons wouldn't fly."
He said the balloons were still "the main attraction, but we've broadened it out so if the weather is bad there are other things to do".