Savings safe insists a Pembrokeshire credit union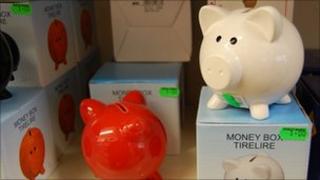 A Pembrokeshire credit union has written to its members telling them it can no longer operate after financial watchdogs withdrew its saving licence.
But the Landsker Community Credit Union said all its savers' cash would be repaid by the Financial Services Compensation Scheme.
The Narberth-based union has blamed bad debtors for its financial troubles.
The assembly government said it had also withheld funding from the union after being told of its difficulties.
The Financial Services Compensation Scheme said it was sending applications forms to all 800 members and asking them to complete them as soon as possible.
It can pay compensation of up to 100% of the first £50,000 lost per person.
In a letter seen by BBC Wales and signed by volunteers of the organisation in August, the credit union told members: "Your savings are safe!
"Landsker Community Credit Union's permission to take savings deposits, also to let saving members withdraw their money as well as to make any more loans, has been withdrawn by the Financial Services Authority.
"You will get your savings back as action taken by the credit union ensures you will receive your savings via the Financial Services Compensation Scheme."
But the letter also attacked those the union said it felt had pushed it into a financial corner, stating that its bad debtors "could not care less that they have borrowed the collective hard earned savings of other members in the community".
"The volunteer Board would like to let their good members know the names of bad debt members in their communities that have let them down, but unfortunately are not allowed to do so," added the letter.
Compensation
Credit unions, which are usually operated on a community basis, offer an alternative to people who may find it difficult to obtain normal bank and credit services.
Across Wales, an estimated 52,000 people are now a member of a credit union, with the movement having assets totalling almost £24m.
But just like the banking sector, they are also monitored by the Financial Services Authority, which also helps operates a compensation scheme for savers.
The Landsker union had also been receiving support from the assembly government, including £50,000 to help run its operations over the last year.
An assembly government spokesperson said: "The assembly government has a duty to protect and safeguard public money and funding has been withheld since we were advised by the Financial Services Authority (who are the regulatory authority for credit union services) that Landsker Credit Union are experiencing significant financial difficulties.
Members of the Landsker Credit Union are now advised to contact the Financial Services Compensation Scheme to have their savings refunded.
In its letter to members, the credit union added: "The long standing volunteers of LCCU who have striven to provide this valuable service to others in their community over the past 10 years, are deeply saddened."