Dig aims to save Conwy bird haven pool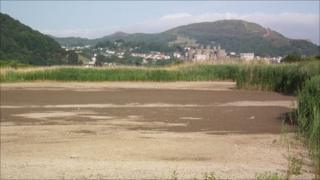 Officials at an RSPB bird reserve hope diggers can help to refill a drained lagoon that should be a haven for visiting birds.
The pool at the Conwy reserve is now empty after an unusually dry winter, spring and early summer.
Julian Hughes, the site manager, said it was the first time in its 15-year history that the lagoon had dried out.
Reserve managers plan to dig out clay in the lagoon to prevent a repeat and sustain flocks of visiting birds.
"Where we used to have a lagoon, we now have a field," explained Mr Hughes.
"It has never happened before.
"We think it is down to the very dry winter. I know we've had a little bit of rain in the last few weeks, but it is nowhere near what we need to keep the lagoon topped up."
The reserve was built as part of the construction of the Conwy tunnel that bypasses the historic town, underneath the estuary.
The site has two lagoons, and the other is deeper and retains water. But the dry bed of the other pool means it can no longer support visiting wading birds.
"As the water disappeared, the insects that are the food supply bury themselves deeper in the soil, and so it is difficult for the birds to feed," said Mr Hughes.
"The birds have simply had to find food elsewhere."
The intention is to now spend the next week or so using diggers to scoop out estuary clay from the dry lagoon bed to increase its depth.
It is hoped that following winter rain, the extra water will help keep the pool wet all year round.
The excess soil dug from the lagoon will also be used to create new islands in the lagoon, which should help attract even more birds to the site.
"In some ways, this is a blessing in disguise," said Mr Hughes.
"We hope it will encourage birds that visit, curlews, redshanks and oyster catchers.
"Yes, it is unfortunate that this has happened and the lagoon has dried out, but it also gives us a chance now to improve it for the future."