Decision due on Welsh assembly referendum question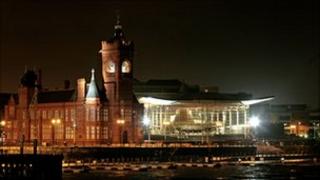 The Electoral Commission will give its verdict later on the proposed question for the referendum on further powers for the Welsh assembly.
The Commission has spent the past 10 weeks trying out the question with members of the public.
It will reveal if it believes the wording is suitable, or if it needs rewriting.
Only when the question has been formally agreed can legal moves begin to call the referendum vote.
It is understood that the rest of the process for calling the referendum is close to completion, so this is seen as a major hurdle to be overcome before the vote goes ahead next year.
The question being proposed by the Wales Office, which is leading the process of drawing up the referendum order, has a preamble explaining the kind of areas which are currently devolved, such as health and education.
Below is the proposed question:
"At present, the National Assembly for Wales (the assembly) has powers to make laws for Wales on some subjects within devolved areas. Devolved areas include health, education, social services, local government and environment. The assembly can gain further powers to make laws in devolved areas with the agreement of the Parliament of the United Kingdom (Parliament) on a subject by subject basis.
"If most people vote Yes in this referendum, the assembly will gain powers to pass laws on all subjects in the devolved areas.
"If most people vote No, then the present arrangements, which transfer that law-making power bit by bit, with the agreement of Parliament each time, will continue.
"Do you agree that the assembly should now have powers to pass laws on all subjects in the devolved areas without needing the agreement of Parliament first?"
'Road testing'
The Electoral Commission has a legal duty to ensure that any question asked in a referendum is accurate and intelligible to voters, and has been "road-testing" the Wales Office's suggested question with focus groups and experts around the country.
The issue of the question to be asked led to a bitter political row earlier this year, with the new Welsh Secretary Cheryl Gillan suggesting that her predecessor, Labour's Peter Hain had deliberately dragged his feet over its drafting in order to delay a vote until next year.
He vehemently denied the claim, and said in fact it was Ms Gillan who was holding back the process and that sufficient work had been done while he was in office.
The referendum is currently expected to be held sometime in March 2011, ahead of the assembly election in May, although the exact timing will be discussed between First Minister Carwyn Jones and Welsh Secretary Cheryl Gillan.
However, the date will need to be decided before the referendum order is voted on in London and Cardiff Bay.