Tony Blair writes of his worries over Welsh devolution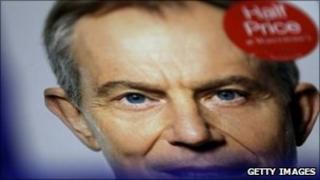 Tony Blair has described Welsh devolution as "a dangerous game" in his memoirs.
While it was known the former prime minister was not a great enthusiast for the creation of the Welsh assembly, he has gone much further in his book.
He said he distrusted nationalism but added that the pressure to devolve power was "inevitable".
He also writes that he was "desperately sorry" for Ron Davies, who resigned as Welsh secretary in 1998.
In his memoirs, published on Wednesday, Mr Blair admitted he "was never a passionate devolutionist".
Ron Davies and Tony Blair in 1998
He wrote that "it is a dangerous game to play. You can never be sure where nationalist sentiment ends and separatist sentiment begins".
He goes on to say: "I supported the UK, distrusted nationalism as a concept, and looked at the history books and worried whether we could get it through.
"However, though not passionate about it, I thought it inevitable."
BLAIR ON FORMER WELSH SECRETARY RON DAVIES
Mr Blair writes of how he felt "desperately sorry" for Ron Davies, who became his first Cabinet casualty when he resigned as Welsh secretary.
He said Mr Davies' infamous "moment of madness" - when he "had been robbed by a black male prostitute on Clapham Common" - was mind-boggling.
He said he thought the episode showed how "unbelievably cruel" political life could be but he knew Mr Davies's career could not be salvaged.
Mr Blair wrote: "The problem was not anything to do with sex or not, it was the misjudgement. I felt desperately sorry for him."
BLAIR ON HUNTING BAN
Elsewhere in the book, entitled A Journey, Mr Blair said he regretted the law banning hunting with dogs.
"If I'd proposed solving the pension problem by compulsory euthanasia for every fifth pensioner I'd have got less trouble for it," he wrote.
But Alun Michael, who was a rural affairs minister Welsh secretary and the first leader of the Welsh assembly, responded that the mistake was not introducing the legislation quickly enough.
The ban came into force in 2005 after bitter protests and legal challenges.
Mr Michael told BBC Radio Cymru: "The mistake was that we didn't do things quickly to settle the question.
"When we came back in 2001 [after the general election], the Labour Party promised with the support of Tony Blair that we would deal with the question.
"He [Mr Blair] asked me to find some way that would gain the support of everybody but that was never going to happen because views were so entrenched on both sides of the debate.
"So I think the problem was not giving a decision that was possible for everybody to understand."